What will you learn?
Modeling cupboards and kitchen fronts

Creation of basic rotary solids

Support for common types of lights

Creating realistic visualizations with fuzzy background

Support for advanced V-Ray Proxy models

Arrangements of materials and faithful representation of their characteristics

Organising complex day and night lighting models

Optimization of rendering processes
By choosing this course, you will learn much more!
Attention!
You will receive the download instruction and code from us at the address given when placing your order
e-mail at the latest on the next working day after receiving the payment.
Who is this course for?
The course is designed for those who already know the basics of SketchUp and would like to solve their problems related to lack of experience in decorating work and broaden their knowledge of V - Ray techniques. If you design interiors but your visualizations do not look attractive, this course is just for you! You will find here a solution how to createrealistic lightingto make your furniture models look real. This course will also help you solve many other problems!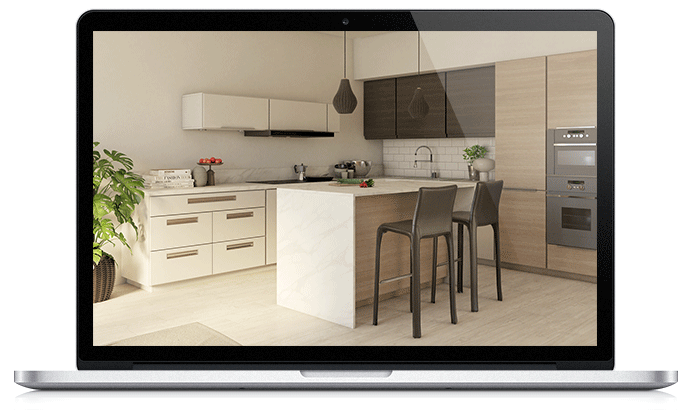 To work with the course you only need to know the basics of SketchUp, because here we will focus on supplementing your knowledge abouttechniques of working in V-Ray. In addition to learning interior design, the training will guide you through problems related todecoratingwork.
Complete kitchen design
This part of the training course shows howprepare a kitchen design that will combine 2currently most popular stylesmodern and Scandinavian. The kitchen space is filled necessary models: cabinets, shelves, chairs, tops. There is also an island. You will see how you can enrich the project withdecorative elementssuch as wicker lamps, pots, glasses or even fruit and vegetables. The result will be a very realistic view of the designed kitchen.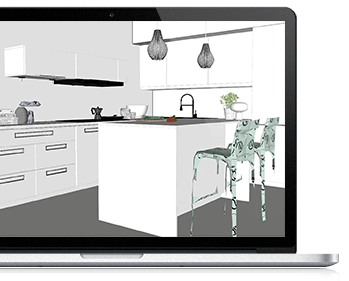 Realistic materials
Wondering what to do to make glass, plastic or metal look as realistic and natural as possible in your project? This course will help you to deal with it! You will start creating realistic looking materials without any problems,but you'll also see how to speed up the process significantly. You will learn how to use the Material Editor settings and also how to use the V-Ray material library. The author will help you to find portals, from which completelyyou can download good quality textures and maps for free.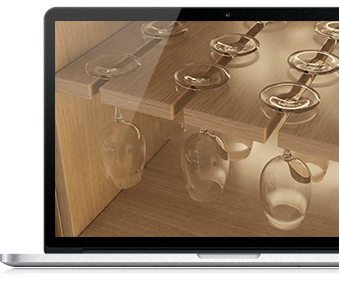 Your projects in a new light
One of the important elements can make the visualization more attractive. It is the right light. If onlythe natural light settings are within the reach of beginners, artificial lightingrequires good knowledge of the V-Ray types and skilful use of them in the Asset Editor. If you want to learnhow to use lights: SpotLight, Sphere Light or IES Light,this course is for you! You will quickly start translating the acquired knowledge into your own projects and you will see how much you gain from it.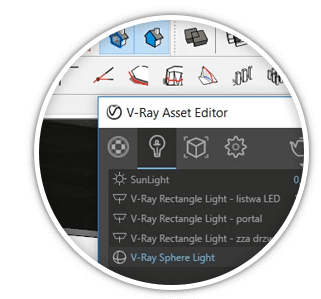 Striking close-ups with fuzzy backgrounds
Static visualizations can be easily replacedwith interesting close-ups, so as to highlight the most important details of your project. I'm sure it will make a bigimpression on your customersand it's going to be a great enlargement materialportfolio. During the training you will learn how to adjust the most important settings: aperture, ISO and depth of field to suit your projects. This will give youphotorealism.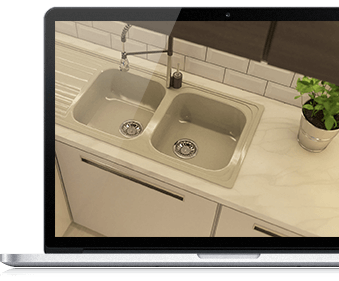 Great visualizations do not have to be time-consuming!
The default V-Ray settings are completely ineffective. Created visualizations take an incredible amount of time, and the quality of the final project does not reflect the time spent on their preparation. The training will prepare you tocontrol the rendering process, learn about various rendering options and adjust them to your own needs. Here you will learn how to use the Denoiser option to design good quality visualizations inavery short time!
How to use the course?
By buying the course you get access to our training platform. In order to use the course, you only need access to the Internet. The courses can be conveniently viewed through any browser or mobile application for Android and iOS.
Table of contents
Introduction
Introduction
How to use the materials
Kitchen model
Cabinets
Rotary solids
Wickerwork blocks
Complementing the scene with models
Importing .obj and .fbx files
Import fundamentals
Import of high poly files
V-Ray Proxy
V-Ray Materials
V-Ray basic material
Additional maps
Colour corrections in V-Ray
Glass and translucent materials
V-Ray material library
V-Ray settings
Types of rendering
How to speed up rendering?
Camera
Natural lighting
Artificial lighting
Introduction
Sphere Light
Spot Light
IES Light
Mesh Light
Postproduction and Close-ups
Frame Buffer
Field of View
Completion