What will you learn?
How to create a backend using Google Firebase

Validation of dynamic forms

Placing applications on GitHub Pages

How to make your application safe and efficient

How to load modules on demand

Creating user registrations

How to add notifications to applications

Use of reusable components Angular Material
Need to learn about Angular? Looking for a course based on the latest version of this framework? If you want to learn techniques that are used in commercial projects, this course is for you. The author shows how to design a complete flight application. For this purpose he uses a modern technological stack: Google Firebase, Angular Fire and Angular Material. Many employers require knowledge of these technologies.
By choosing this course, you will learn much more!
Attention!
You will receive a download instruction and code from us at the address given when placing your order
e-mail at the latest on the next working day after receiving the payment.
Backend with Firebase
One of the best tools used to build the applicationbackend is Google Firebase. It provides all the necessary services to monitor and develop applications in one place. The author shows how to combine them with the Angular framework and the Angular Fire library. You will learn how to create user registration and send and receive information about flights. Thanks to that you will learn how to communicate with Firebase services.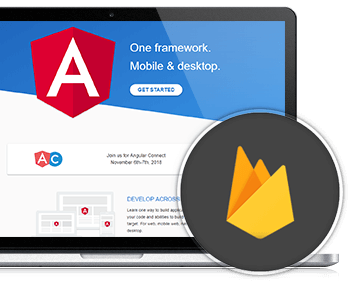 Modern front with Angular Material
Angular Material is one of the most popular libraries with reusable components. Its knowledge is often appreciated by employers as it is used in many commercial projects. It allows for quick creation of views, e.g. registration and login of users. The course shows how to create dynamic forms and how to perform correct validation. It also teaches how to display notifications to users after tasks performed.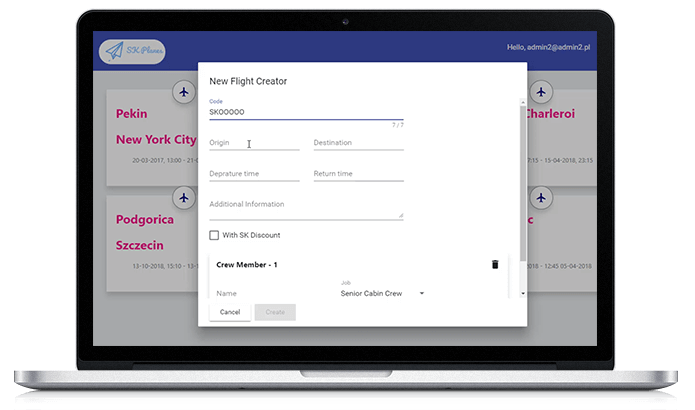 Efficiency and security
The author of the course shows many useful tips and tricks. He teaches best practices on application performance, e.g. OnPlush strategy or loading modules on demand. By creating so-called guards, he shows what are the secrets of routing. With their help you will protect against unauthorized users access to application views.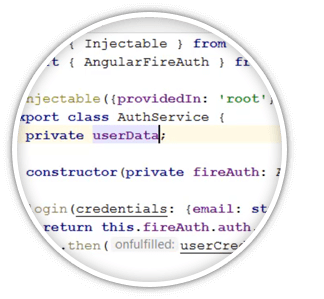 GitHub Pages
Finally, there is a presentation how to put the final version of the application on GitHub Pages. This allows you to show and show off your program to other developers and employers.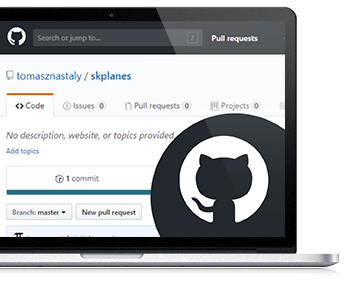 Universal working techniques
The author of the course uses Angular version 6, but most elements are compatible with older versions. The course shows different techniques used in everyday work on commercial projects.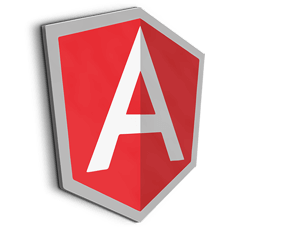 How to use the course?
When buying the course you get access to our training platform. In order to use the course you only need access to the Internet. The courses can be conveniently viewed through any browser or mobile application for Android and iOS.
Table of contents
Preparation of the environment
Introduction to application 05m

09s

Materials 01m

41s

Preparation of the technological stack 07m

19s

We meet Firebase 04m

18s

Firebase connection to application 04m

45s

AngularMaterial module 08m

14s
Displaying data from Firebase
We create application routing 08m

21s

FlightsModules and application header 10m

01s

We download the 14m 33s flight list
Flight card 14m

00s
Reactive forms
AngularMaterial Dialog 05m

33s

MatDialogue Content 04m

16s

Global settings MatDialog 04m

28s

Template and MatFormField 05m

19s

FormBuilder and forummaker model 07m

00s

Dynamic forms - add crew members 08m 12s
FormArray and Dynamic Form Model 14m

26s

Validation of form 07m03s - seefree lesson
Mat-error and Mat-hint 08m

06s

We're sending a flight to Firebase 09m

38s

MatSnackbar - we add notifications 06m

17s
Routing params and loading data into forms
Modal with flight details 08m

37s

Flight detail editing a routing params 03m

55s

Edit flight 18m

42s

We send data to the 05m

55s

server
Deletion of flight 04m

53s
Login

and registration
Login view 02m

44s

FireAuthModule 09m

32s

Let's display the logged-in user 03m

51s

User logout 03m17s - seefree lesson
CanActivate Guard - we defend access to views 06m 54s
User registration 05m 46s
The last touches
Lazy loading modules 06m 06s
Own form validator 04m

54s

Wildcard 03m

53s

OnPush strategy 05m

53s
Creating visualization from scratch
JIT vs AOT build 03m

25s

Deploy on Github pages 09m

37s

End of 01m

22s