Product description: Environment Design - from sketch to illustration
Environment Design - from sketchto illustrationteaches how to create landscapes usingAdobe Photoshop- the so-called enviroment design. It will be useful for hobbyists, professional and semi-professional creators of graphics in the field of so-calledconcept art. Discusses practices known to artists such as the correct use of color, chiaroscuro, perspective, and much more. Entry level course.
Perfect Graphic Design from the Ground Up
There are some things a beginning graphic designer won't even think about. More aspects of creating your own landscape in Photoshop often come into play. The tools discussed here cover these issues comprehensively. The described basics can prove to be somewhatuseful when using other graphic programssuch asGIMPor CorelDRAW.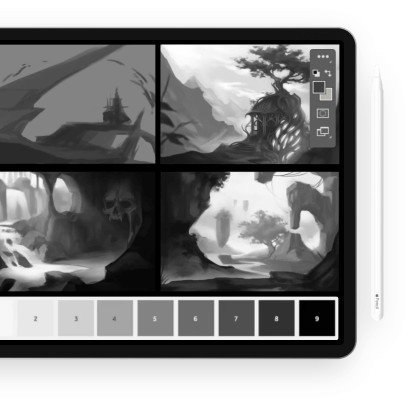 Three dreams in one - the course - the dream of everyone whose dream is to take up the profession of graphic designer
The world of computer graphics is becoming more and more common. Once only professionals had access to it. The immeasurable possibilities of Photoshop make it possible forcomplete beginners todevelop as well. This is a small Photoshop course and at the same time a supplement of knowledge for those who have already taken their first steps with this program.
Drawing in practice
Theory from the course is always accompanied bypractical examples. The author teaches how to draw objects in space, gives tips on working in grayscale (black and white). She also presents techniques that allow you to quickly create landscapes from reference photos. There is no shortage of space for so-called thumbnailing and quick sketching - the instant presentation of ideas and concepts. Thanks to these practices, it will be easier to choose the right ones, which will go into the final shape of the work. Landscapes will become stunning and thoughtful.
Overview of course content
Working with Photoshop tools for illustrators
Thumbnailing and quick sketching
Drawing landscapes from reference photos - "from a pattern"
Color and chiaroscuro
Modeling live and still life forms
Applying perspective
Creating a color base
Preparing textures
Course highlights
Unlimited access, including 24/7 mobile access
6 hours of training
Tests and assignments
27 lectures
20 test questions
Certificate of completion
You can add recommendations to your LinkedIn profile or include them in your CV.
Table of contents
1 Introduction
Introduction 01 m 00 s
Overview of Adobe Photoshop tools 11 m 01 s
2 Thumbnail
Basics - plans in landscape 05 m 03 s -see free lesson
Basics - perspective 08 m 47 s
One point perspective 13 m 02 s
Two point perspective 06 m 49 s
Own concepts 23 m 40 s
Colour variations 05 m 18 s
Quick project tricks 05 m 01 s
Colouring the achromat 24 m 54 s
Changing time of day 07 m 10 s
3 Landscape
Quick sketches 12 m 22 s
Color bases 06 m 07 s -see free lesson
Light shading 11 m 45 s
Terrain modifications 20 m 14 s
Introducing new elements 12 m 09 s
Working in perspective 22 m 12 s
4 Modeling and Finishing an Illustration
Modeling - foreground 18 m 19 s
Modeling - foreground 20 m 56 s
Modelling in the foreground 22 m 41 s
Water painting 09 m 33 s
Custom texture 19 m 03 s
Foreground - tree and plant detail 24 m 48 s
Foreground detail road and rocks 24 m 53 s
Using photos in digital 09 m 17 s -see free lesson
Beautification 16 m 09 s
Finishing 00 m 50 s