Product description: JAVA Course - Multithreaded Programming and Application Optimization
The course JAVA - Multithreaded Programming and Application Optimization covers the most important techniques of multithreaded programming. It is a study of multithreading mechanisms and writing applications in such a way as to optimally use the possibilities of the hardware platform. Intermediate level course. Ideal for anyone applying for a job as a Java Developer.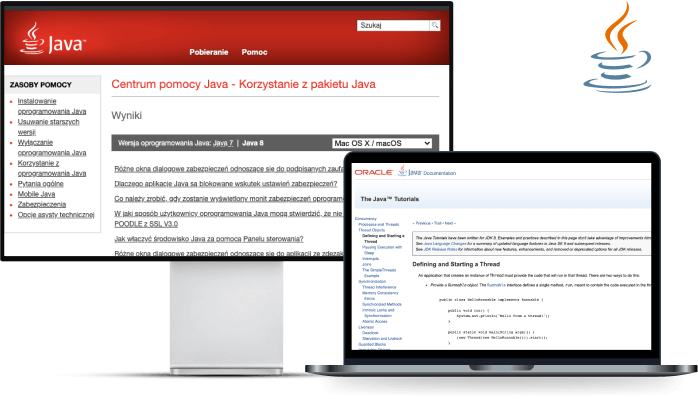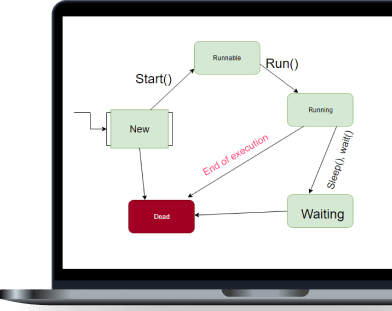 Overview of the course content
Creating threads in JAVA language
Controlling threads using the join() method
Using volatile and synchronized keywords
Controlling access to resources using Lock
Efficiently create groups of threads using ExecutorService
Semaphore, CountDownLatch, CyclicBarrier classes
Application optimization by sharing calculations between threads
Writing applications taking into account Deadlock, Livelock or Starvation threats
Multi-threading learning
Full use of the capabilities of systems with an increasing number and power of cores means running on them programs adapted to work in a multithreaded environment. Multithreaded programming is necessary to create modern and smooth applications. JAVA training teaches the mentioned multithreading at work and introduces to the subject of optimization with the help of practical examples.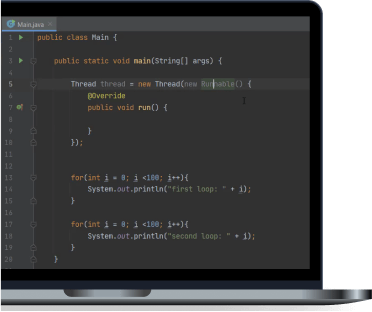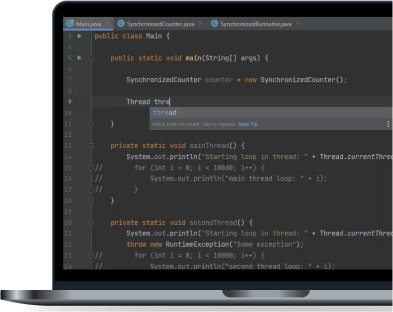 Broad knowledge base - JAVA programming language
Advanced aspects of JAVA programming require at least the basics of this language. Some of the online courses with similar topics are:
JAVA in practice
The course also covers the basics of creating threads. It teaches how to create them, run them and control their work with tools and methods such as sleep() or join(). The theory, actual work and examples in lectures are shown by real application code. Also covered is resource access when using objects implementing the Lock interface, fast thread pool creation with ExecutorService, and synchronization work with CountDownLatch and CyclicBarrier. This is a course filled to the brim with examples of the mechanisms and using them in a practical way in the background.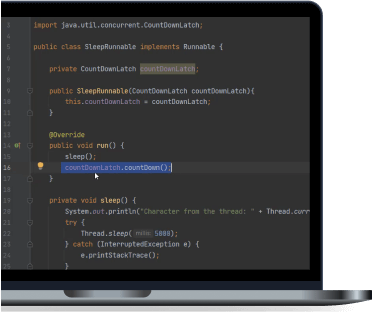 Course highlights
Unlimited access, including 24/7 mobile access
5.5 hours of training
Tests and assignments
39 lectures
24 test questions
Certificate of completion
You can add the obtained recommendations to your LinkedIn profile or supplement your CV with them.
Table of contents
Introduction

Introduction - 01m 13s
How to use the materials? - 02m 00s
Why is it worth creating multithreaded programs? - 04m 21s
Installing IntelliJ IDEA - 04m 44s
Creating threads
Creating a thread - 08m 41s
Basic operations on the Thread class - 11m 03s
Thread priorities and debugging - 11m 42s
Other ways of creating threads - 05m 21s
Actions on threads
Join - 05m 47s
Stopping the thread - 08m 59s
Daemon Threads - 05m 29s
Volatile - 09m 58s
Synchronized - 10m 49s
Wait and notify - 10m 39s
Locks - 8m 58s - see the free lesson
ExecutorService - 09m 07s
Semaphore - 10m 00s
Callable - 10m 06s
Multithreaded Collections
CountDownLatch - 11m 57s
BlockingQueue - 12m 55s
DelayQueue - 10m 55s
PriorityBlockingQueue - 13m 51s
CyclicBarrier - 10m 06s
ConcurrentHashMap - 08m 51s
Exchanger - 11m 46s
Optimization
Optimization - theory - 04m 52s
Latency - 08m 08s
Reducing latency - creating a project - 11m 00s
DTO - 08m 51s
PersonalDataService - 07m 11s - watch the free lesson
Reducing latency using multiple threads - 12m 15s
The dangers of multithreading
Deadlock - 10m 46s
Livelock - 11m 07s
Starvation - 07m 58s
The problem of feasting philosophers
The problem of the feasting philosophers - introduction - 02m 11s
Chopsticks - 05m 41s - see free lesson
Philosophers - 09m 41s
Simulation - 11m 12s
Conclusion - 01m 02s