Description: Regular Expressions course - from the basics to the expert - on-line version
Thisonline training introduces the capabilities of regular expressions at an intermediate level. It contains universal knowledge of RegEx that you will apply to any technology and programming language. During the course you will learn:
search strings using regular expressions
Use symbols such as wildcards and asterisks
Solve the greedy problem of regular expressions
create groups to extract fragments from strings
create classes to represent groups of symbols
use predefined character classes
implement mathematical logic in regular expressions
Use your knowledge to solve real programming problems.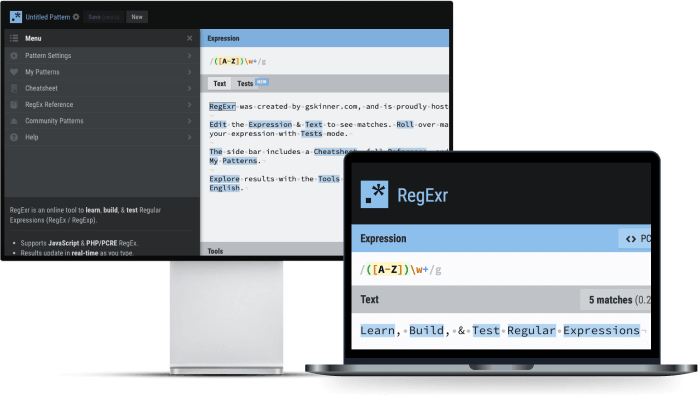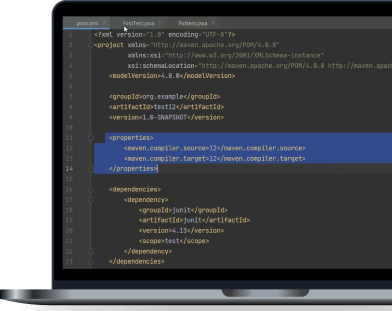 An easy way to start learning
In this course you will learn how to write basic and more complex regular expressions. The examples are very universal, based on the JAVA language and can be used to work with any technology. You will also find information on how to configure the development environment. Lessons included in the course can be repeated and practiced again without any problem.
Basics of regular expressions
During the course you will learn the most important features of regular expressions. At first, you'll master the basic classes, namely Pattern and Matcher, which will allow you to use the regular expression engine. Then you'll learn basic symbols such as wildcards and asterisks with practical examples. Subsequent chapters cover increasingly advanced aspects of regular expressions, such as classes and unions. Each topic will be explained theoretically and demonstrated with an example while writing code together, so that you will have a good understanding of how RegEx works.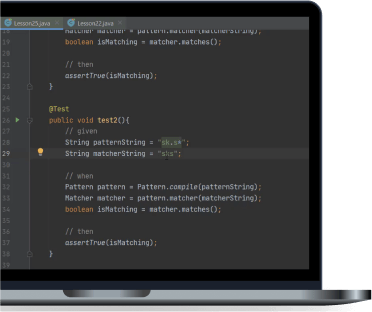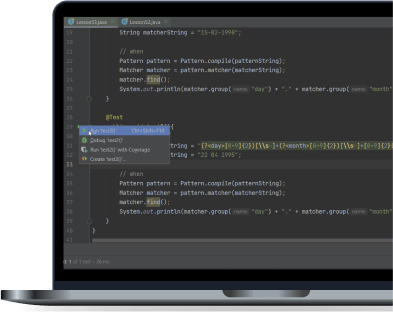 The course is designed to introduce the increasingly advanced mechanisms of regular expressions, as well as the risks associated with their use. You will learn how to deal with the common problem of so-called greedy regular expressions. Part of the course is devoted to practical examples of using regular expressions in real life situations. You will learn how to use them effectively to solve various problems, not only programming ones. By completing the course you will be able to easily use the powerful capabilities of regular expressions at work on your projects.
Table of contents
Introduction
Introduction
How to use the material?
What are regular expressions
Installing IntelliJ IDEA
Preparing a project
Regular expression basics
Pattern and Matcher
Finding exact phrases
Keyword
Asterisk - see the free lesson
Asterisk and wildcard in one expression
Wildcards
Classes
Classes in regular expressions
Negation
Classes and ranges
Unions in classes
Predefined character classes
Using classes in examples
Advanced elements of regular expressions
Anchors
Specifying a specific number of characters
Plus
Question mark - see free lesson
Alternative
Greediness of regular expressions
Groups
Solving practical problems
The dimension problem
The data problem
Date problem
The e-mail problem
Termination