Description
You want to makethe first stepin the world of creating apps on Android?
You have an idea for a great app, but you know nothing about programming?
You want to know an easy way to learnthe basic development concepts without going into intricate details?
You want to check if the programmingis what you want to do in the future?
If you answeredYesto these questions, then this course is just for you.
Imagine creating an application as builduing the project from the ready to use elements.You don't need to be familiar with the programming.You don't even need to know details of Android. It is enough that you have the idea on the desired application and, in fact, now you can start its implementation.
With this course, you will learn how to create Android applicationswithout writing code.Simultaneously, this is a great opportunity to know key concepts that are the basis of almost every program. The knowledge that you will get, not only allow youto create a dream appon Android, but will also make that, in the future, learning any programming language will be much easier. All of this can be done usingApp Inventor– a relaible, free and easy to use tool.
What is the App Inventor?
App Inventor is a tooldeveloped by Google, and is currently developed by the famous Massachusetts Institute of Technology. App Inventor helped millions of people around the world to turn their ideas into real applications on the Android platform. You too can join them! You just need a web browserand any device with Android.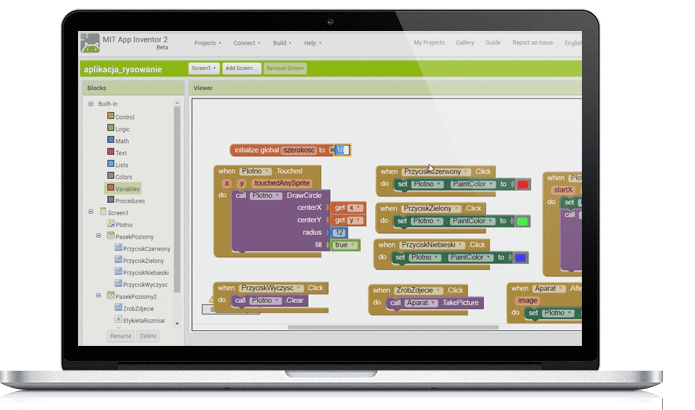 With App Inventor, you can easily create apps, as if you had built a structure out of blocks. At your disposal aredozens of ready-made blocks and components that can be combined into any combination. Using them, you can quickly createthe entire application interface, determine what functions will it have and test it on the selected device.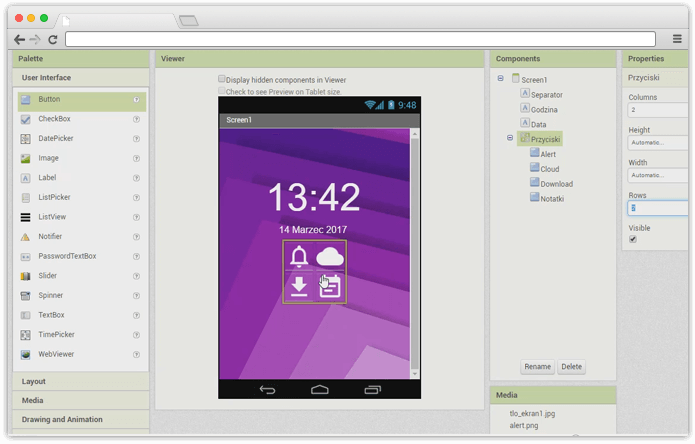 What you get with the course?
The ease of creatingAndroidapps using ready-made components.
The possibility of creating afully functionalapplication that meets the real needs of users.

The ability to create apps of almost any type: commercial, web or games.

Capabilities of creating applications that use different device functions: camera, memory card or GPS.
Knowledge about the useof advanced featuressuch as database, server connection or using external API.

The knowledge of techniques that will prepare your application for distribution and will allow you to get with it to a broad audience.
What will you learn from the course?
Course, step by step, will teach you how to create your own functional apps via App Inventor. It starts from the quick introduction that will show you how to start the work, how to efficiently manage your projects and, above all, howto test your applicationon a real device and the emulator.

The essential part of the training is work on the manypractical applications with the increasing difficulty level. In a short time, you will learn to use various useful components: buttons, labels, sliders, etc. You will also see how easily you can use the various functions built into the phone or tablet, for example, camera or memory card. By the way, you'll learn how to create a gamewith animation and interactive elements in App Inventor.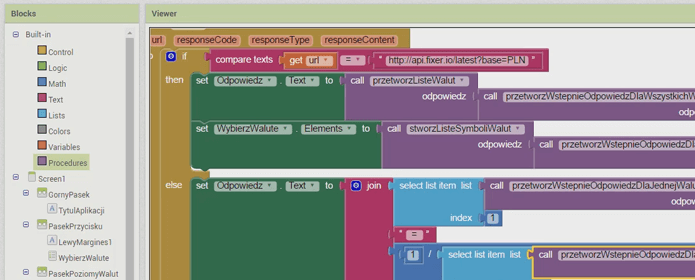 The course has enough space for more complex projects, thanks to which you will learnthe advanced technologies used in many professional applications on Android. It is, i.a. databases, geolocation or use of the Google Maps. A lot of the time, we will spend discussing methodsof creating interfacesfor the user.

At the end you'll also learn how applications you create, prepare for distribution. You will learn how to pack your project in the format .apk and configure the application so that it wascompatible with Google Play.
The contents
Introduction
Introduction

00m 27s

How to use the files

01m 18s

Android application

03m 55s

What is App Inventor 2

05m 55s
Basicmethods of work
The main elements of the program

07m 13s

Creation, record and export of the projects

03m 23s

How we test the apps

06m 42s

We are testing on the emulator

05m 51s

We are installing AI2 Companion

04m 25s

We are testing on the device

03m 54s
Let's create the first app
Let's add the first component

06m 44s

Let's a

dd the component of the image

04m 45s

Buttons - key components

03m 13s

The first action

06m 35s

The application decides

08m 02s

What you need to remember

02m 57s
The second application - drawing
Add the canvas to draw

05m 51s

Buttons for color selection

04m 42s

Let's arrange the buttons horizontally

 

05m 48s

How to draw a circle

06m 52s

Draw a line

05m 14s

How to choose a color for the line

04m 37s

We need to clean up the workspace

03m 22s

How to download photo from the camera?

08m 15s

Component of the slider

05m 00s

We introduce the notion of a variable

04m 33s

We take away the value from the slider

 

04m 32s

Let's summarize the second application

03m 58s
Background and Sprite

05m 59s

Add watch

06m 53s

Add score

05m 58s

How to reset the result

 

04m 01s

When the game can end

07m 20s

Let's summarize the third project

03m 02s
Let's create the most important components

03m 50s

Add basic animations

06m 13s

Bullet - animated sprite

05m 16s

We define the position of the bullet

 

05m 21s

We propel the bullet

 

04m 08s

How to detect the collision 

05m 26s- see a free lesson

The fourth project - what do you have to remember

02m 01s
How to create beautiful UI
Alignment of elements and spacing

05m 48s

Arranging elements in an array

 07m 15s- see a free lesson

We are adding a second screen

04m 44s

Choose any color

05m 37s
Procedure - modular application
First, let's identify the problem

05m 50s

Let's simplify the application by using the procedures

05m 39s

Use the capabilities of the procedures

06m 56s

What else the procedure

 offers 

04m 20s
Let's create a slide show
What is the list

02m 49s

Let's create a list of photos

05m 40s

What is the index of the list

06m 34s

We return to the beginning of the list

04m 35s

How to go to the previous photo

04m 33s

Slide show - summary

 

02m 02s
The new component - text field

04m 51s

Add a preliminary note

05m 26s

Reset the text field

04m 40s

How to process a list

05m 40s

The preliminary elements of the procedure

04m 00s

Processing the position

06m 53s

How to permanently save notes

03m 56s

How to read notes from the database

05m 52s

How to retain more information

04m 58s

Read the contents and date

07m 16s

Notes - things to remember

04m 30s
Appendix - exchange of currency
Preliminary establishment of the application

02m 22s

What is API

04m 57s

Components of the Web

 netwrok 

06m 42s

The procedure of processing the response

06m 09s

Complex nesting of lists

07m 13s

Correct currency display

03m 22s

We limit the amount of currency

04m 15s

The component of the drop-down list

02m 52s

Let's complete the list with the currency symbols

06m 33s

Optimalize the blocks of application

05m 00s - see a free lesson
App - exchange of currency p.2
What we do when we select

 the value 

05m 20s

Conditional loading of responses

05m 01s

How to process one currency

07m 06 min

Let's create a procedure of one currency

04m 16s

The result of the whole project

03m 20s
Google maps and geolocation
What app we will create

02m 30s

Add the location sensor

07m 26s

How to launch an external application

07m 04s

We determine the route

06m 44s

Latest project - what you need to remember

03m 01s
How to complete the application
What you need to know about distribution

04m 48s

How to create APK file

05m 13s

Complete the important information

05m 33s

Conclusion

00m 37s