Specification of the product: Pololu Wheel 90 x 10 mm - white
Wheel diameter: 90 mm
Bus width: 10 mm
Hole diameter : 3mm (D-shaped)
Weight: 20 g
Number of wheels included: 2
Description of wheels 90 x 10 mm
The wheels have treads so they reduce the influence of surface contamination on friction and grip. The mounting hole is matched with the shafts of the Pololu micro motors. The wheels cooperate also with plastic corner engines . In order to ensure connectivity with various kinds of drive systems, developed were special adaptera (hub) fitted for shafts with diameter: 3 mm, 4 mm, 5 mm and 6 mm.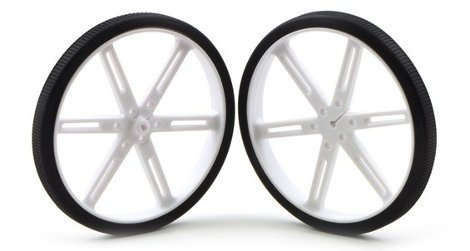 The store also has wheels and tires from Pololu in other sizes.

The size of the wheels
The diameter of the wheel with the tyre is 90mm. Width of the whole is 10 mm. The mounting hole has the shape of a letter D with a diameter of 3mm. Rim dimensions are shown in the figure below.