Description
The controller allows for independent control of two modeling servo systems by means of buttons or digital signals. The outputs are matched to the servo joints: SYG | +V | GND.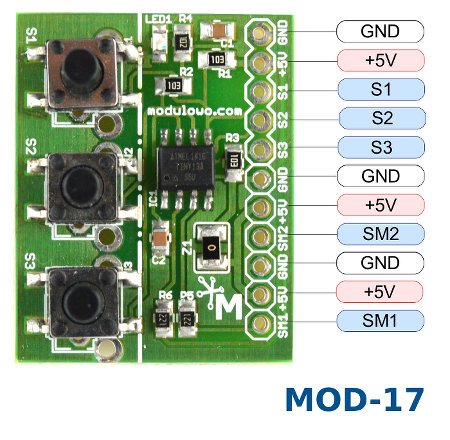 Each time the SW2 (for servo 1) or SW3 (for servo 2) button is pressed, the axis of the servo is rotated about 180°. Pressing SW1 will rotate both servos by 90 degrees, which means that they are in their central position.
It is also possible to control them via the digital inputs S1 - S3, which correspond to the individual buttons. The inputs are activated in a low state, which is equivalent to pressing a button.
Specification
Supply voltage: 2.7 V to 5.0 V
Built-in microcontroller: AVR ATtiny13
Connectors: 11-pin connector, 2.54 mm raster, angled for self-soldering
Possibility of configuring the supply voltage from the same or separate source by means of a jumper
Dimensions: 31 x 25 mm
Module manufactured in Poland
Included:
Switch

module
Soldering set for self-soldering: 11-pin goldpin strip - angled