Product description: FormFutura EasyClean Resin Remover - 5 l
A remover used toremove uncured resinremaining on a 3D model after printing. Designed to removeresinresidues used in SLA, DLP and LCD printers in which the printing material is cured with light of wavelength from 385 nm to 420 nm. FormFutura EasyClean consists of organic solvents. The agent is safe to use. The remover is more effective and up to three times more efficient than traditional isopropyl alcohol (IPA). The product is sold in a5000mlcanister.
Key features of EasyClean Resin Remover
Excellent cleaning properties. Removes excessresinbetter than traditionally used isopropyl alcohol (IPA)
Leaves no white residue or cloudiness on the model.
Designed to wash UV cured resins in SLA, DLP and LCD 3D printing technologies
No transport restrictions
Not classified as dangerous goods by ADR and IATA
Non-flammable
Does not emit excessive amounts of unpleasant, irritating odors during use
Can also be used to clean worktops, ladles and other surfaces that come into contact with resins
Shelf life of the remover is 24 months
How to use the remover?
Place the printout in a container filled with EasyClean resin cleaner
Clean by hand for 10 to 15 minutes or for 5 minutes using an ultrasonic cleaner
After cleaning, allowthe 3D printed modelto dry or rinse it under running water
Storage of the product
The product should be stored in a well-ventilated room in the original sealed HDPE container. The storage temperature of the remover should not exceed 25°C. EasyClean has a shelf life of up to 24 months when stored properly.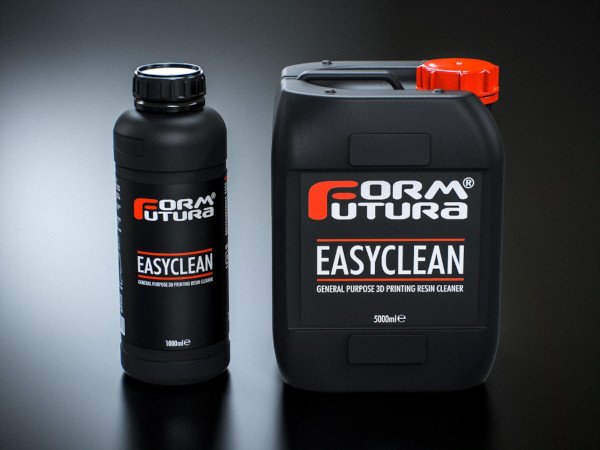 The subject of the sale is a remover with a capacity of 5000 ml. A1000ml bottleof theproduct is also available.
Specifications FormFutura EasyClean
| Parameter | Value | Test method |
| --- | --- | --- |
| Flash point | 75°C (1013 hPa) | ASTM D3828 |
| Boiling point | 189,6°C (1013 hPa) | ASTM D3828 |
| Auto-ignition temperature | 207°C (1013 hPa) | ASTM D3828 |
| Density at 23°C | 0,9539 g/cm3 (20) | MVPF 18 |