Description: NanoPi NEO v1.4 - Allwinner H3 Quad-Core 1.2GHz + 512MB RAM
MiniatureNanoPicomputer inNeo v1.4version with1.2 GHzAllwinner H3 quad-coreARM Cortex-A7processor. The board has512 MB ofDDR3 RAM, built-in portEthernetand aUSB + 2x USB Host slot on2.54 mm,36 GPIOpins, microSD card slot. Works withu-boot and UbuntuCoresystems.Version v1.4 has 4-pin audio interface, 2-pin CVBS interface, supports IC power control and has holes for heatsink mounting.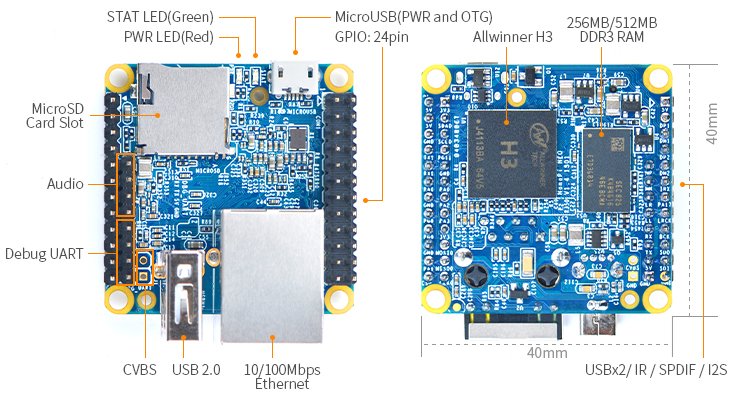 The device has a USB port, connector and Ethernet port and many others.
What is needed to run a NanoPi minicomputer?
Operating system for NanoPi Neo
NanoPi works with systems prepared by the manufacturer: u-boot and UbuntuCore. The disk of the device can be a microSD card, which can be purchased in our shop.

GPIO pin layout - the pins should be soldered on their own,2.54 mm goldpin raster stripsare included in the set.
NanoPi Neo mini-computer communication
The minicomputer has basic communication interfaces that can be found in PC-class office computers. In addition to the previously mentioned audio and video interfaces, the user has the possibility to use them:
1x USB A + 2x USB Host connector on 2.54 mm pins, under which you can connect e.g. a mouse, a keyboard, a WiFi card or a flash drive. If it turns out that there are too few sockets, you can increase their number usingan external USB HUB. The interfaces on the pins can be connected with cables.
Ethernet socket, i.e. possibility of direct connection to the LAN.
GPIO x 36 pin - general purpose outputs/inputs that can be used to operate LEDs, buttons, motor controllers. Among them there are pins supporting interfaces: I2C, SPI and UART. Pins should be soldered on their own,goldpin raster strips 2.54 mmcan be purchased in our shop.
microSD slot - a slot for a microSD memory card, on which the operating system can be installed.
NanoPi Neo power supply
The system uses the microUSB connector as the power source. The manufacturer recommends that the voltage given on the connector should be 5.0 V, while the current capacity of the power supply used should be at least 2.0 A. In our offer you will findpower supplies meeting these parameters.

In our offer you will also finda dedicated heat sink.
Specification

Model
NanoPi Neo
Specification

Processor
Allwinner H3
Core
Quad-Core ARM Cortex A7
Systems
u-boot
UbuntuCore
Clocking
1.2 GHz
Memory RAM
512 MB
Memory
microSD card
GPIO socket
36 pin connector
for self-soldering
Power supply
5 V / 2 A - microUSB
Dimensions of the tiles
40 x 40 mm
Interfaces
USB Host
1 x USB socket A
2 x USB Host on 2.54 mm pins
Network interface
Ethernet 10/100 Mbps
Video
-
Audio
audio output and microphone
on GPIO connector
Communication
UART, SPI, I2C, GPIO, PWM
Debugger
Serial port 4pin / 2.54mm
Additional
Built-in LED
CVBS 2-pin interface
Supports IC power control
Heatsink mounting holes