Product description: NanoPi NEO Core Allwinner H3 Quad-Core 1.2 Ghz + 512 MB RAM + 8GB eMMC - with connectors
A smallNanoPi Neo Coreminiature computer with a quad-coreAllwinner H3processor clocked at1.2 GHz. On board the board there is8 GB of eMMC memoryand512 MB of DDR3 RAM. There were 3 USB Host and Ethernet ports (located on the pins),microSD cardslot and a microUSB connector. NanoPi is equipped with 68 GPIO pins.It works with the systems:Slaughterhouse, Ambian, DietPi, Lakka, Kali, OpenWrt, etc.
Power supply for NanoPi NEO Core minicomputer
The system uses themicroUSBconnector as the power source. The manufacturer recommends that the voltage given on the connector should be5.0 V, while the current capacity of the power supply used should be at least2.0 A. In our offer you will findpower supplies meeting these parameters.
Operating system
NanoPi works with Debian systems. The drive can be amicroSDcard, which can be purchased from our store.
Communication
You have it:
GPIO x 68 pin- general purpose outputs/inputs, which can be used to operate LEDs, buttons,motorcontrollers. Among them there are pins supporting the interfaces: I2C, SPI and UART.
MicroSD slot- slot for a microSD memory card, on which the operating system can be installed.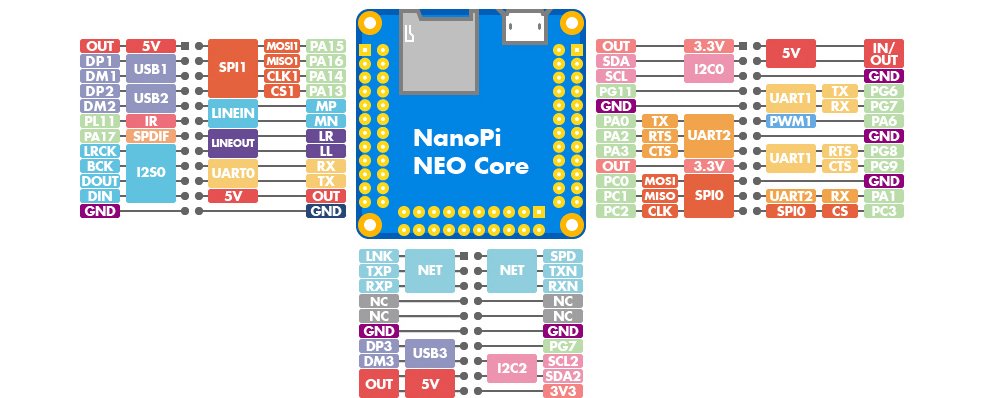 Specification

Model
NanoPi Core
Specification

Processor
Allwinner H3
Core
Quad-Core ARM Cortex A7
Systems
Slaughter, Ambian, DietPi, Lakka, Kali, OpenWrt, etc.
Clocking
1.2 GHz
Memory RAM
512 MB DDR3 32-bit
Memory
8 GB eMMC
microSD card
GPIO socket
68 pin GPIO
Power supply
5 V / 2 A - microUSB
Dimensions of the tiles
40 x 40 mm
Interfaces
USB Host
3 x USB 2.0 on 2.54 mm pins
Network interface
Ethernet Gigabit on 2.54 mm pins
Video
-
Audio
I/O port (4-pin, included on pins 2.54 mm)
Camera
-
LCD
-
Communication
UART, SLEEPING, I2C, GPIO
Debugger
Serial port on 2.54 mm pins
Other
status LEDs
Included
2x goldpin 24-pin / 2.54 mm 1x gpolypin 20-pin / 2.54 mm