Description
WEP 995D station with  hot air ironand tip-based soldering iron. The device has a microcontroller PID, which checks the performance and adjusts it to the preset values. The station has an LCD display, adjustable temperature andthe tip-based iron with moreheating power (75 W).The air flow is realized through a fan located in the iron.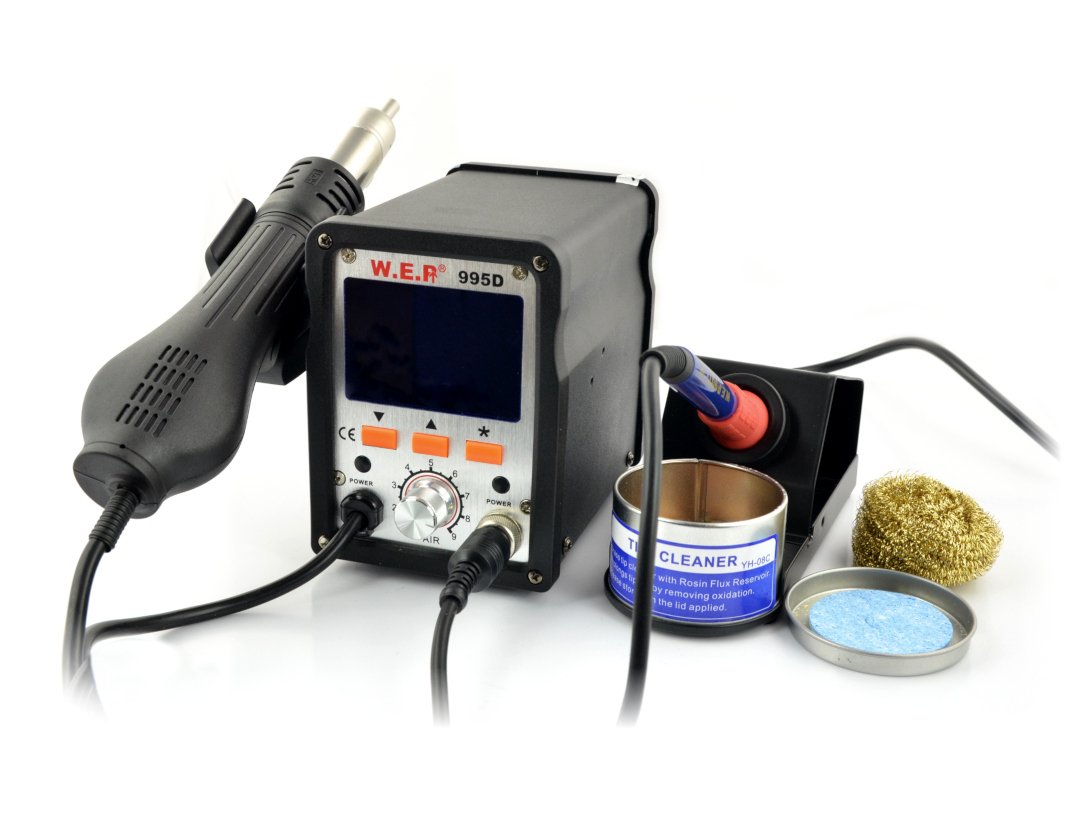 Complete soldering station with accessories.
Specification
Voltage: 220 - 240 V / 50 Hz (network)
Power: 700 W
The station is controlled through a microcontroller that provides high stability
The device has a PID controller
Compact design with clear LCD display
Hotair Soldering Iron
Adjustable temperature hot air from 100 °C to 480 °C
Temperature stability +/-1 °C
LCD display showing actual power supply
Temperature setting buttons
Smooth adjustment

of temperature in the range

Air flow up to 120 l/min
The head size of the hot air 22 mm
Protection before reaching the high temperature and report alarms.

Length of the iron's cable: up to 100 cm

The air flow is provided through a fan located in the iron
Soldering Iron Tip-based
Iron 907I
Adjustable temperature soldering tip: 200 °C to 480 °C
Temperature stability: +/- 1 °C
Soldering iron power: 75 W
The resistance to ground of up to 2 Ohms
Potential with respect to earth ground 2 mV
System: ESD safe
Sleep mode: enabled after 0-99 idle work moments.
Ceramic heating element Hakko

Hotair soldering iron has a ceramic heating element that quickly and evenly heats up. The heater consists of hard alloys, which allows for a long operation time at high temperatures without deformation, which increases the stability and prolongs the service life of the heater.
Auto mode
Choosingautomaticmode, when you put down the hot air iron on the stand, the unit automatically stops heating and cools down to a safe temperature. This saves electricity and prolongs the service life of the device.
Easy to read LCD display
Temperature, power, airflow, and operating mode are displayed on a large, easily readable LCD display. The station is equipped with control functions - we get the message about the short circuit, overloading of circuits, lack of a predetermined temperature. All of these errors appear on the display.
Includes:
WEP station 995D
Stand for hotair iron
Set of nozzles:

round with a diameter of 4.4 mm
round with a diameter of 8 mm

round with a diameter of 9 mm

square 12x12 mm

Stand for tip-based iron along with a cleaning sponge
Soldering iron 907I with T-I tip
Cloth
Rosin
A gripper for lifting circuit
First run
You should not run the device immediately after delivery.
Equipment must remain for about 12 hours at room temperature before switching on.
All complaints caused by running of the equipment too soon will be denied.
You must completely remove the screw/screws from the bottom station if the source of air supply is the compressor. These screws are marked in red (1 or 3 screws depending on model).
Note
Heating elements (heaters) and the tips are not subject to warranty, and you must purchase new ones.
Our range of accessories for soldering: