Description
Soldering iron Yihua 872D total capacity of 700 watts with adjustable temperature and built-in PID-regulator. The device has a soldering iron with heating power 50 W. Temperature of soldering iron and hotair iron is set by using the knobs.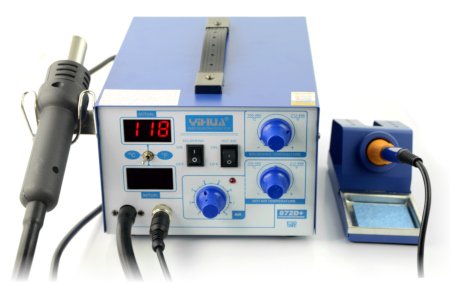 The station is used on the electronic repair services for safe soldering of QFP, BGA, SMD,PLCC, and othertemperature-sensitive elements.

Specification
Supply voltage: 230 V / 50 Hz (network)
Power: 700 W
Station is controlled through the microcontroller for PID control, which ensures high stability
Two LED displays the value of the tip and hotair, every few seconds displays the current temperature
Hotair Soldering Iron
Adjustable temperature hot air from 100 °C to 480 °C
Temperature stability: +/- 1 °C
Temperature setting with knob
Air consumption: max. up to 24 l/min
Display: LCD
Tip-based Soldering Iron
Adjustment of the soldering tip temperature: 100 °C-480 °C
Temperature stability: +/- 2 °C
Potential between tip and ground: < 2mV
The resistance between tip and ground: < 2 Ohm
Iron: 907 F
Soldering iron power: 50 - 100 W
Display: LCD
Includes:
Soldering station Yihua 872D+
Set of nozzle:

round nozzle with a diameter of 2 mm
round nozzle with a diameter of 4.4 mm
round nozzle with a diameter of 6 mm
round nozzle with a diameter of 9 mm

Standfor the soldering iron along with a cleaning sponge
A gripper for lifting circuis
Soldering iron 907 F with tip I
First run
You should not run the device immediately after delivery.
Equipment must remain for about 12 hours at room temperature before switching on.
All complaints caused by running of the equipment too soon will be denied.
You must completely remove the screw/screws from the bottom of the station if the compressor is the source of air supply. These screws are marked in red (1 or 3 screws depending on model).
Note
Heating elements (heaters) and tips are not subject to warranty, you should purchase new ones.
Our range of accessories for soldering: