Description: Mayku Formbox - vacuum forming device
A device allowing to create various spatial formsusing e.g.objects previously printed on a 3D printer. Ready-made moulds allow to quickly create many structures in a short time, by making castings. Apart from creating templates for castings, it is also possible to tightly close products in blister packs. Formbox has a forming platform with dimensions of 200 x200 mm.The moulds are created on a safe, non-toxic0.5 mmsheet.
Unpacking and presentation of the Mayku Formbox.
The Mayku Formbox vacuum moulding machine creates moulds by pressing theheated sheet on theplatform and simultaneously sucking the air out with any vacuum cleaner. The templates created in this way allow you to create multiple constructions simultaneously. Thermoforming can be used to produce moulds for a wide range of materials.
Moulding sheets
Three different moulding materials are included in the set:
Mayku Cast Sheet- a transparent sheet, food safe 0.5 mm thick for repeated use. Lightweight, flexible and non-stick surface of the sheet provides easy template removal. Fully recyclable. 30 sheets are included.
Mayku Form Sheet- an easy-to-use sheet for versatile use. Sheet in white colour with a thickness of 0.5 mm. Ideal for packing products, creating forms and improving decorative designs. Fully recyclable. The set includes 30 sheets.
Mayku Pour- easy to use, non-toxic casting material designed for Mayku Formbox andCast Sheets. Mix the powder with water using the supplied measuring devices. The liquid spills easily and quickly forms a hard, smooth, white cast that reproduces even the smallest details. Ideal for painting and decorating when completely dry. The set includes 1 kg of powder.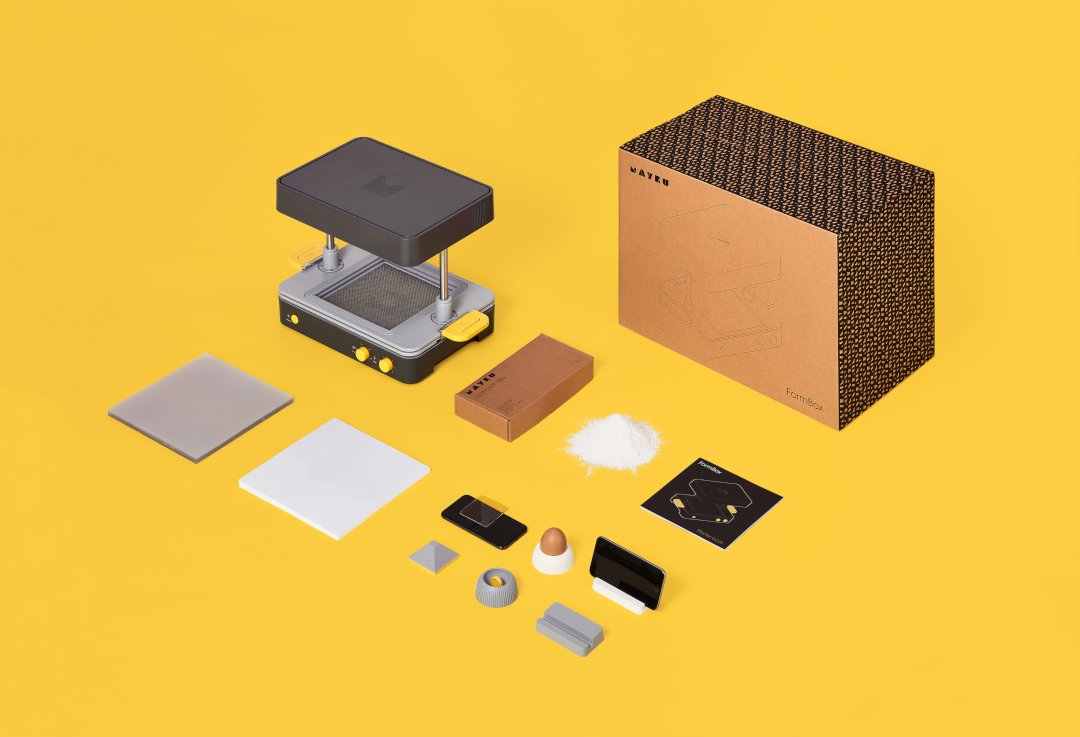 The contents of the Mayku Formbox.
Attention!
The device requires anyvacuum cleanerto work.
The vacuum cleaner must be purchased separately.
Main features of the Mayku Formbox vacuum cleaner
Rapid mold creation - the ability to quickly create moulds of products with high quality finishes.
Compatible with many materials - compatible with a wide range of sheet materials.
Cooperation with 3D printer - combination of Formbox with 3D printer will allow to create professional product batches.
Small size, high power - Formbox provides advanced production technology in a space no bigger than a laptop.
Precision control - precise setting of time and temperature allows to create consistent forms every time.
Vacuum closing - Formbox while creating a mould sucks air at the same time, to create the best quality template. It works with any vacuum cleaner.
Automatic switching - connect the vacuum cleaner to the rear port and suction starts exactly when required.
Mayku Formbox application examples
The manufacturer boasts of the wide application of the device, some of them are listed below. You can read more onthe manufacturer's website.
Using the Mayku Formbox to teach car design.
Increasing the interest of students in lessons using Formbox.
Creating tasty designs.
Creating product packaging.
Developing imagination in school classrooms.
Model of Tanya and Eskander glass villages.
Creating a wide range of prototypes.

Sample design of hologram display for phones.
Specification of the Mayku Formbox forming device
Specification
Power supply
110 V to 240 V / 5 A / 1000 W
Heater
Ceramic heater with an operating range from 160°C to 340°C
Thickness of sheets
0.25 mm to 1.5 mm
Compatible sheet materials

PET-G
HIPS
PLA

Polypropylene

Polycarbonate
Polystyrene
PVC
Kydex
HDPE
LDPE
EVA
TPU
ABS
Castor acrylic

Compatible template materials

3D printed FDM PLA

3D printed FDM ABS

3D printed FDM Nylon

Most printed 3D SLA

Most 3D SLS printed

Wood

Milled and injection moulded

Plastics such as ABS or nylon
Steel
Aluminium
Gypsum
Polyurethane foam
Hardened clay
Silicone
Paper and paperboard
Toughened glass

Production of templates

3D printing
Milling
Hand carving
Injection moulding
Laser cutting

Compatible casting materials

Concrete
Silicone
Chocolate
Jelly
Resin
Ice
Foam
Jesmonit
Gypsum

Working conditions

Temperature: 15°C to 30°C

Humidity: 30% to 50% RH

Storage conditions

Temperature: 10°C to 35°C

Humidity: 20% to 90% RH

Platform dimensions
200 x 200 mm
Depth
130 mm
Dimensions
466 x 315 x 274 mm
Mass
13 kg
The set includes
Mayku Formbox
Mayku Cast Sheet - 30 pieces.
Mayku Form Sheet - 30 pieces.
Universal vacuum cleaner connector
Power supply cable
First creation kit
Suction pipe