Description: BleBox DimmerBox v2 - 230 V WiFi lighting controller - Android/iOS application.
A compact, ready-made module that allows you to control230 Vlighting with up to200 W, viaWiFinetwork using mobile applicationsfrom anywhere in the world. From the application level, the lighting can be switched on and off, and the brightness of the light sources can be controlled. With the DimmerBox controller it is possible to controlLED lighting(marked as dimmable), incandescent, halogen and low-voltagelightingusing electronic transformers. Version v2 was created for trouble-free placement of the controller in the electrical box, has smaller dimensions in comparison to the previous version. BleBox DimmerBox v2 is equipped witha number of protections, such as: against too high voltage, overload or overheating, and also has a "fuse" that will switch off the device in the event of burning the bulb, after removing the fault, the application must "replace the fuse". In addition, for complete safety, the controller is enclosed in a non-flammable housing.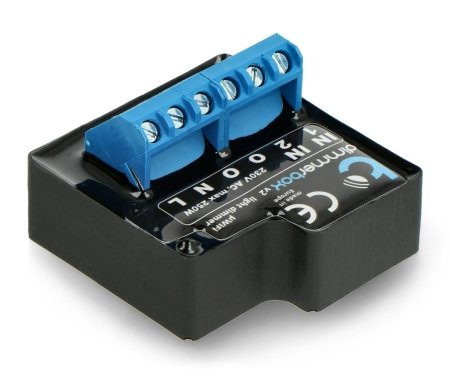 Lighting controller BleBox DimmerBox v2.

The module is equipped with screw connectors for easy installation of cables.
Wiring diagram of BleBox DimmerBox v2.
Before installing the DimmerBox BleBox controller, disconnect the power supply in the circuit in which it will be installed. The controller should be placed in a place protected against external conditions and protected against access by third parties.
The module is equipped with screw connectors, to which the cables should be connected using a screwdriver:
IN- connectors for connecting an external switch.
O- voltage output for lighting.
N- power supply, neutral cable.
L- power supply, phase wire.
BleBox DimmerBox v2 controller configuration
In order to configure the BleBox DimmerBox v2 driver, download the wBox application for Android or iOS devices and then connect to the driver's network called "dimmerBox-xxxxxxxxxx", where "xxxxxxxxxx" is the serial number of the device. After starting the application, you will see the device at the top of the screen, next to the name there will be a "+" sign. To pre-configure the device, click on its default name.
The configuration can also be done through a web browser using HTML5. To do so, enter in the address bar the IP number of the device that was assigned to it by DHCP, e.g.http://192.168.4.1.
BleBox DimmerBox v2 driver specification
Specification
Supply voltage
230 V AC
Energy consumption
up to 1 W
Type of outputs
dimming
Types of lighting
230 V AC Dimmable LED, Incandescent/Halogen, Electronic Low-voltage (ELV)
Maximum intensity per channel
1 A
Maximum intensity (total)
1 A
Maximum load
200 W
Number of entrances
2
Type of inputs
logical, contained in the N
Maximum input voltage
230 V AC
Galvanic separation
No
Communication
μWiFi, WiFi compatible
Frequency of transmission
2.4 GHz
Communication mode
Direct connection (as Access Point), WiFi connection via standard router, connection with access from anywhere in the world (only Internet access required
Dimming mode
trailing edge
Case
made of polyurethane composition without halogens, self-extinguishing for thermal class B (130°C)
Leakage class
IP20
Installation
in a wiring box, under the button, in the device housing
Safeguards
increased voltage, overload, overheating
Broadcast
bi-directional with confirmation, encrypted
Compatible devices
Android and iOS devices, as well as HTML5 support devices
Dimensions
48 x 38 x 23 mm