Description
Reflective distance sensor detecting the object in the range from0,01 cmto15,2 cm. It has a digital output type - open collector, which changes the logic status when it detects the obstacle. The sensor works with a voltage from 10 Vto 30 V,it has a cable with the length of approx.1 m.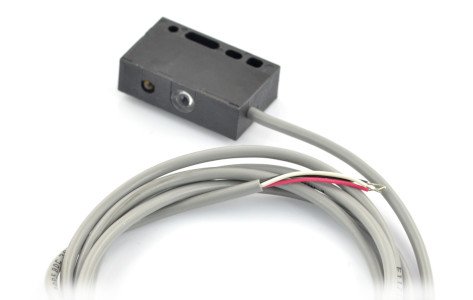 The sensor has mounted wire with the removed insulation at the ends.
Connection
To run the sensor, just connect three wires:
 
Cable
Description
 
Red

Supply v

oltage.
 
White

Digital output signal, type of open collector.

 
Black

Ground.

The sensor sends a beam of light through the transmititng that is reflected from the obstacle and returns to the receiver.
Specification
Supply voltage: 10 V to 30 V
Current consumption: approx. 50 mA
Sensor type: reflective, optical
Measurement range: from 0.01 cm to 15.2 cm
The minimum size of the detected object: 2 mm
Filtering the light of the environment: <100k Lux
Output signal: digital CMOS/TTL (open collector)
Operating temperature: 0 °C to 70 °C
Cable length: 99 cm
Type of wires: 28 AWG
The sensor's size: 17 x 8.5 x 28 mm