Description of Soldering station Zhaoxin 936DH 75W
Soldering station Zhaoxin 936DH with a total capacity of 75 watts with adjustable temperature from 200 °C to 480 °C. The device features very light bulb (only 45 grams) and the actual read of the tip's temperature on the display.
Comparison of the soldering stations from 936 series.
Temperature stabilization and actual read
At the time of setting the temperature, the LED display shows the adjusted temperature. After a few seconds, the screen shows the current temperature of the tip and its growth. After reaching the setpoint, the station will inform the user with a sound signal. Built-in microcontroller which controls the operation of the station Zhaoxin, monitors the stability of the temperature.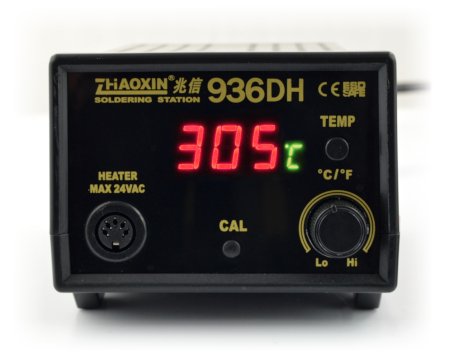 Why choose the Zhaoxin station?
Because it has the function of temperature stabilization with the use of a microcontroller. This means that the device constantly monitors the actual temperature of the soldering tip, and a built-in microprocessor controls the heater current. Therefore, station is able to match the current respectively to the environment, which ensures stable operation. The station also has a continuously adjustable temperature and a selection of tips.

Specification
Power supply: from 220 V to 240 V
Power:75 W
Continuously adjustable temperaturefrom 200 °C to 480 °C
Temperature stabilizationwith the built-in microcontroller
Very light bulb - 45 g

Digital display with red and yellow backlight

The display showsthe actual temperature of the tip


Led indicating the operation state of the heater

The system isESD safe
Warranty: 24 months
Dimensions: 120 x 93 x 70 mm
Weight: 1.68 kg
In kit
Station Zhaoxin 936DH
The bulb soldering with tip
Mount for soldering iron
Sponge for cleaning the soldering tip
First run
After delivery of equipment, it should not be immediately launched.
Equipment must remain about 12 hours at room temperature before switching on.
All reports of damages caused by the premature commissioning of the equipment will be denied.
Note
Heating elements (heaters) and tips are not the subjects to warranty, either expressed or implied, and replacing them chargeable.
Our range of accessories for soldering: