Product description: Velleman VMA430 - GPS / GLONASS u-Blox NEO-7M UART module with antenna
GPS / GLONASS NEO-7M-C module on board with goldpin connectors. It supports 50 channels, operates from 3.3 V to 5 V, communicates via UART interface (TX, RX), and refresh rate is up to 5 Hz. The module is equipped with straight goldpins.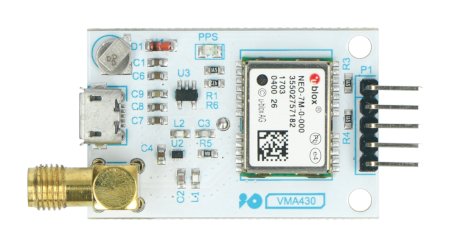 The chip has soldered straight goldpin connectors and a ceramic antenna.
Main features of Velleman VMA430
GLONASS system - Russian satellite navigation system covering the whole globe.

Simple communication - device communicates through simple UART interface, i.e. RX and TX pins with default speed 9600 bps. Thanks to wide voltage range, it can work with both 3.3 V devices, like STM32 and Raspberry Pi, and 5 V devices, like Arduino
Built-in ceramic antenna - gives sensitivity of -162 dB. Additionally, the module is equipped with SMA connector for connecting external antenna.
Backup battery - on the back side there is a battery that allows you to keep data in the device during a power outage.
Connection and sample program
The chip has 5 goldpin pins - raster 2,54 mm. Their functions are described in the table below.
| Pin | Description |
| --- | --- |
| VCC | Supply voltage 3.3 V or 5 V. |
| GND | System ground. |
| TXD | Serial interface transmitter to be connected to the microcontroller receiver (RX). |
| RXD . | Serial interface receiver, which must be connected to the microcontroller transmitter (TX). |
| PPS | Optional pulse-per-second signal output of the GPS module. |
Technical specification of GPS / GLONASS u-Blox NEO-7M UART module with antenna
Supply voltage: 3.3 V to 5 V or via microUSB
Current consumption: 50 mA
uBlock NEO-7M module(documentation)
Support for GLONASS system
Communication: UART
Position accuracy: 2,5 m
Sensitivity: -161 dBm
Refresh rate: 5 Hz (default 1 Hz)
Warm start / cold start: 1 second / 30 seconds
Has built-in antenna and connector for external SMA version