Product description: DIY V 2.0 radio construction kit
A set of elements allowing you to build your own radio. The module is based on two circuits, the latest generation Si4820 radio receiver,whichoffers high qualityreception and easy tuning, and a single-channelNCP2890D amplifier, allowing you to connect a speaker of up to 1 W. The set requires the solder to be soldered to a plate. The board dimensions are 88 x 46 mm. The unit can be poweredfrom 2.5 C to 5.5 Vor 3AA batteries.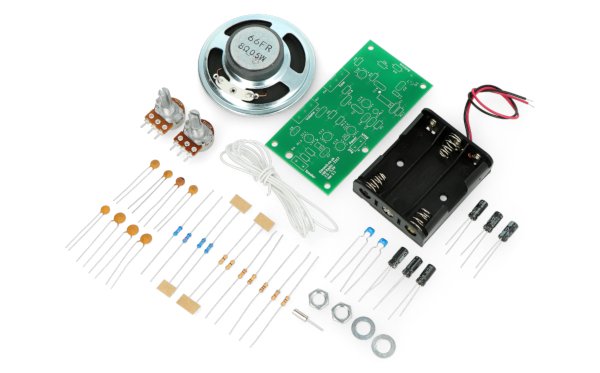 The kit requires THT elements to be soldered in.
The manufacturer has prepared aninformationnote which includes a description of the radio's operation and short assembly instructions. The kit contains elements that require soldering.
The kit includes:
1 piece. - PCB:

1 piece. - Receiver layout: Si4820
1 piece. - Amplifier circuit: NCP2890D
1 piece. - ESD protection diode CM1213A
1 piece. - LDO Stabilizer TLV700
1 piece. - Induction coil 270 nH 5%

1 piece. - Linear rotary potentiometer 100 kΩ

1 pc. - Linear rotary potentiometer 10 kΩ

5 pcs. - Electrolytic capacitor 50 V 1 uF

3 pieces. - Ceramic capacitor 50 V 100 nF

1 piece. - Ceramic capacitor 33 pF

2 pieces. - Ceramic capacitor 22 pF

2 pieces. - Ceramic capacitor 470 nF

1 piece. - Ceramic capacitor 50 V 470 nF

1 piece. - Ceramic capacitor 50 V 1 nF

1 piece. - Electrolytic capacitor 16 V 100 uF

1 piece. - Resistor 220 kΩ

1 piece - Resistor 56 kΩ

1 pc. - 3.3 kΩ resistor

1 pc. - 100 kΩ

2 pcs. - Resistor 0Ω

1 pc. - 6.8 kΩ

1 pc. - 470 Ω

1 pc. - 10 kΩ

1 pcs. - Quartz resonator

1 piece. - Resistor 100 Ω

1 piece - Basket for 3AA batteries(no batteries included)

1 piece. - 1-wire cable 50 cm

1 piece. - Speaker 0.5 W 8 Ω
Specification for

DIY V 2.0 radio construction kit
Power supply: 2.5 V to 5.5 V DC
Receiver layout: Si4820
Amplifier circuit: NCP2890D
Output power: 1 W
Plate dimensions: 88 x 46 mm