Attention!
The product has been discontinued. Check other products in category.
Description
Sound card HiFi with USB output in a form of an extension for minicomputersKhadas VIM. On the board there is an integrated XMOS microcontroller with advanced 8-the spinal cord architecture and RISC ESS flagship 32-bit stereo system DAC ES9038Q2M. There are 3 independent, high quality OPA and four oscillators on ultra-low jitter. It has 2 RCA jacks and 1 S/PDIF. Works at up to 192 kHz.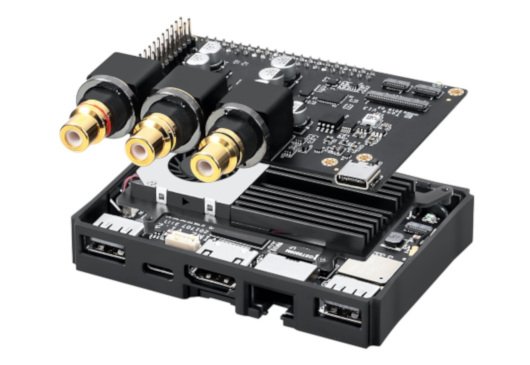 The subject of the sale is the Tone Board, minicomputerKhadas VIM, the heatsink and the fan can be purchased separately.
Motherboard is equipped with two RCA connectors for analog output 2.0 Vrms and one RCA connector for S/PDIF. The card works with a frequency up to 192 kHz. Frequency response is±0.08 dB / 10 Hz to 20 kHz. Sampling frequency is up to 748 kHz / 32-bit PCM and DSD256 / 1-bit DSD.
Specification
Layout:

XMOS: XU208-128-QF48 - 8 cores, up to 500 MIPS
DAC: ES9038Q2M is a 32 - bit Stereo Audio DAC

THD+N:

≤ 0.000337 % / 1 kHz

SNR: 120 dB 10 Hz to 20 kHz

DNR: up to 120 dB from 10 Hz to 20 kHz

Interference: up to 127 dB from 10 Hz to 20 kHz

Frequency response:

± 0,08 dB / 10 Hz to 20 kHz

Sampling rate:

PCM: up to 768 kHz / 32-bit

DSD up to DSD256 / 1-bit

S/PDIF output up to 192kHz

Output S/PDIF: Yes

USB C: NC

Clock Jitter:

Reference Clock Jitter: 3 ps

Date Clock Jitter: 30 ps

Audio formats: APE2 / FLAC / OGG / WAV / ACC / ALAC / MP3 / WMA ...

Line output: 1x RCA red for right and 1x white RCA to the left

Alarm: 1x white led

Mounting holes: M2 x 5
Connectors:

30-pin to 8-channel expansion
10-pin pitch 2.54 mm for I2S VIM
10-pin pitch 2.54 mm for the OLED display

Compatible with: Android, LibreELEC, Linux Distros (supports Volumio)
Dimensions: 74,5 x 82 x 24 m
Set includes
Tone Board VIM Edition
User's instructions
Screws and spacers,