Description
MinicomputerNanoPi, version Corewith processor Allwinner H3 quad-core ARM Cortex-A7 with a clock frequency of 1.2 GHz. Board has256MB of DDR3 RAM memoryand4GB of eMMC memory,Gigabit Ethernetport on pins of 2.54 mm andmicroUSB slot+3 x USB Hoston pins of 2.54 mm,68 GPIOsand a slot for microSD card. It works with theuboot, Ambian, DietPi, Lakka, Kali, OpenWrt, etc.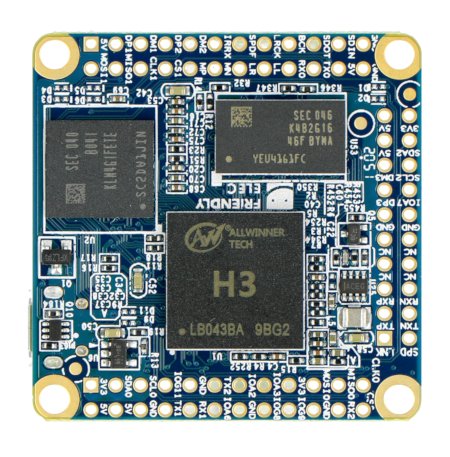 Operating system
NanoPi works with Debian systems. The drive of the device can be microSD card which can be purchased in our store.
Communication
The user has at his or her disposal:
GPIO x 68 pin - outputs/inputs with general purpose that can be used to control the LEDs, buttons, drivers of motors. Among them are the pins that support interfaces: I2C, SPI and UART.
a slot for microSD - slot for microSD memory cards, on which installed can be the operating system.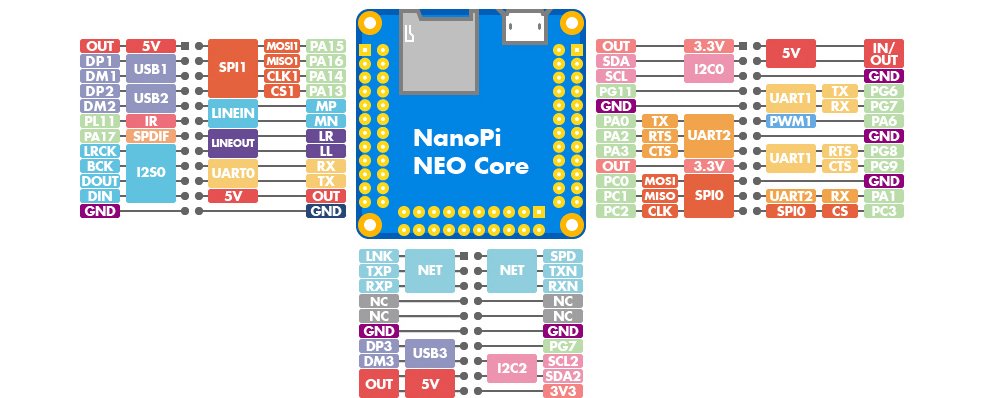 Food
As a power source, the system uses the microUSB connector. The manufacturer recommends that the voltage indicated on the plug had a value of 5.0 V and the current of the used adapter shall not be less than 2.0 A. In our offer, you will findpower supplies that meet these parameters, for example:the Extreme power supply of 3.1 A.
Starter set
The manufacturer has prepareda set of sensors and modulesin a convenient chest that simplifies getting started with minicomputer.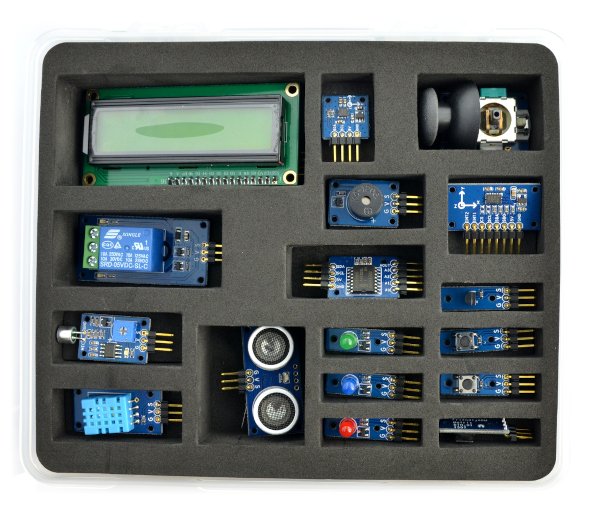 The contents of the setMatrix Starter Kit- sold separately.
Specification

Model
NanoPi NEO Core
Specification

Processor
Allwinner H3
The core

Quad-Core ARM Cortex A7

Systems

uboot, Ambian, DietPi, Lakka, Kali, OpenWrt, etc.

Clock frequency
1.2 GHz
RAM

256 MB DDR3, 32-bit

Memory

4 GB eMMC

microSD card

GPIO slot

68 pin of GPIO

Power

5 V / 2 A - microUSB

Board sizes
40 x 40 mm
Interfaces
USB Host

3 x USB 2.0 on pins of 2.54 mm

Network interface
Gigabit Ethernet on pins of 2.54 mm
Video
-
Audio

I/O port (4-pin, contained on pins of 2.54 mm)

Camera

-

LCD
-
Communication

UART, SPI, I2C, GPIO

The debugger

The serial port on pins of 2.54 mm

Other

status LEDs

Included

2x goldpin strip of 24-pin / 2.54 mm

1x goldpin strip of 20-pin / 2.54 mm