Product description: Pololu HP 10 motor: 1 double-sided shaft
Small, light and powerful Pololu engines are used by robot constructors as drive units. The devices can be supplied with voltages of up to 9 V, and useful power over 3 V. The optimal voltage with the best power-to-strength ratio is 6 V. This version has an extended shaft 4.5 mm long, which allows the installation of speed sensors -encoders.
Pololu HP 10: 1 motor dimensions with double-sided shaft
The motor body is a cuboid with dimensions of 24 x 10 x 12 mm. The gearbox is 9.27 mm long. There is a 3mm D-shaped shaft at the exit. The total weight is approximately 10g.
Accessories for Pololu HP 10: 1 motor with double-sided shaft
We offer a number of accessories that work with Pololu micro motors:



Video from the final run of thewinningconstruction called Impact at the T-BOT 2013 robot tournament. The robot we made has Pololu HP micro motors with10: 1gear.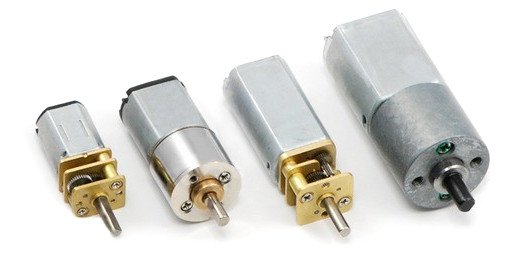 The store also offers many otherengines.
Specification of the Pololu HP 10: 1 motor with double-sided shaft
| | |
| --- | --- |
| Supply voltage: | 3 May - 9 May |
| No-load current (6V): | 120 mA |
| Current with the shaft stopped (6 V): | 1600 mA |
| No load speed (6V): | 3000 rpm |
| Torque (6V): | 0.3 kg * cm (0.029 Nm) |
| Gear ratio: | 10: 1 |
| Shaft Diameter: | 3 mm |
| Body dimensions: | 24 x 10 x 12 mm |
| Mass: | 10 g |
| Double-sided shaft: | YES |
Branded Pololu engine for mobile robots
Robotics lovers do not need to be introduced to the Pololu brand. The engines and other components it produces for amateur robotics work in many mobile robots or RC models, including competition ones.HP 10: 1 motor, double-sided shaft - Pololu 2211is a light (weighing only about 10 g) drive with great possibilities.
The motor body measures 24 x 10 x 12 mm, which facilitates its installation in the robot housing. The drive operates in the voltage range from 3 V to 9 V and consumes a current of 120 mA without load (when supplied with 6 V). The maximum current consumption at the same value of the supply is 1600 mA.
Engine parameters and noteworthy additional accessories
The motor shafthas a diameter of 3 mm and a length of 9.27 mm, 4.5 mm of which extends beyond the body. This makes it possible to mount encoder discs that enable speed measurement. The torque when powered with the voltage of 6V is 0.3 kg * cm, and the speed reaches 3000 rpm.
The construction of the robot on the basis of Pololu engines is facilitated by accessories, also available in the Botland store offer. Check the wheels and tracks that match the diameter of the motor shafts, as well as the wheels with encoders. The controllers in the form of integrated circuits and ready-made modules, including the Arduino series boards extremely liked by robotics, will help in controlling the drive.