Description
Operational amplifier is designed to handle strain beams. The system is supplied with the voltage from 2.6 V to 5.5 V, communicates via a two-wire bus: the data line and a clock line.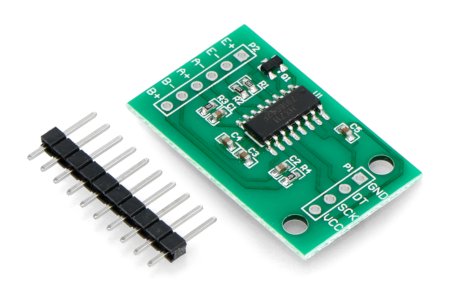 Connection
The strain beams are supported through the so-called Wheatstone bridge, i.e. wires connected in the following way:
E+ (

Excitation+)

- positive excitation or VCC (power supply)

E- (Excitation-)

 - negative excitation or GND (ground)
A- / A+ -- positive strengthening, a positive signal or a positive output

B- / B+

- the negative strengthening, the negative signal or a negative output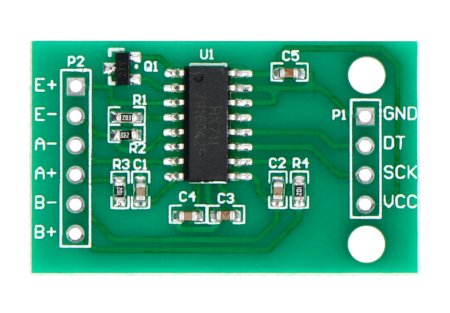 For communication with the microcontroller, e.g. Arduino, the system uses two lines: CLK and DAT.
Pin
Description
VCC
The supply voltage is from 2.6 V to 5.5 V.
DAT
Data line of the communication bus.
CLK
Clock line of t

he communication 

bus.
GND
The ground of the system.

E+
E-

A-

A+

B-

B+

Line to connect the strain-gauge beam. The description is above the picture.
The product is compatible with Arduino
Specification
Supply voltage: 2.6 V to 5.5 V
Number of channels: 2
ADC converter: 24-bit
Preamplifier: low noise 32 / 64 / 128
Updated frequency: 10 Hz / 80 Hz
Pins:

openings

for goldpin connectors - 2.54 mm(strap included)
Operating temperature: -20 °C to 85 °C
Module dimensions: 33 x 20 mm