Product description: Pololu High-Power 18v15 - a single-channel driver for 30V / 15A motors
The driver based on MOSFET transistors allows you to control one DC motor powered with a voltage from 5.5 V to 30 V with a current consumption of up to 15 A.
The pins are arranged on both sides of the module. One of the connectors is responsible for controlling and powering the logical part. On the opposite edge there are motor power pins (V +, GND) and motor outputs (OUTA, OUTB). The voltage value of the control signals should be in the range from 3.5 V to 5.5 V. The manufacturer does not recommend operating with voltage 3, 3 V.
In the standard application, it is only necessary to connect the PWM signal and the DIR motor rotation direction selection pin. The FF1 and FF2 flags indicate incorrect operation of the system. The RESET pin is pulled up by default to the power supply. When the low state is brought, the system will go into the state of minimum energy consumption. All flags will also be reset.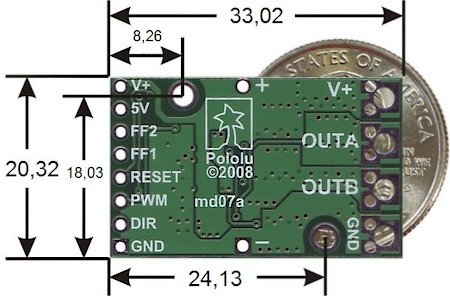 Set contains
Driver module
Electrolytic capacitor
Goldpin strip
ARK connectors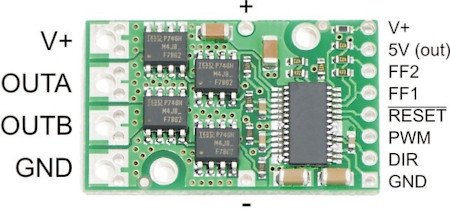 PIN
Description
V +
Motor power supply (5.5V-30V). The output marked with the + sign is the positive pole of the capacitor connection. The smaller V + pins allow you to monitor the motor power. Use for high currents is not recommended.
5V (out)
5V voltage stabilizer output. Output current up to several mA. Be careful not to short-circuit the adjacent pin V + as it leads to irreversible damage to the module.
GND
System mass potential.

OUTA

OUTB

Leads for the DC motor.
PWM
Speed control signal. Defaults to low
DIR
Select the direction of rotation of the motor. In the high state, the current flows from OUTA to OUTB. Default in float state.
RESET
After giving the low state, the system is in the state of low energy consumption. It also clears all flags.

FF1

FF2

Layout state flags. In the event of an error, a high status appears.
FF1

FF2

Description

Blocked




exit

L.
L.
No errors
NO
L.
H.
Short circuit
YES
H.
L.
Temperature too high
NO

H.

H.

Voltage too low
YES
Specification of the Pololu High-Power motor controller
Number of channels: 1
The supply voltage of motors: from 5.5 V to 30 V
Continuous motor current per channel: 15 A.
Maximum PWM frequency: 40 kHz
The maximum voltage of the logic part is 5.5V
MOSFET resistance: 3.5 mΩ
Dimensions: 33 x 20.3 mm
Weight: 2.8 g (without connectors)