Description
Set includes the minicomputerNano Neo Pi 512 MB, a heatsink and a converter USB-UART. In addition, the set is completed with a power cable microUSB, memory card, and necessary mounting components.
NanoPi Neo
MinicomputerNanoPiin versionNeo v1.3 with a processor -Allwinner H3 quad-coreARM Cortex-A7 with a clock frequency of 1.2 GHz. The board has512 MBof memoryDDR3, built-in portEthernetandUSB port + 2x USB Host on pins 2.54 mm,36 GPIO, connector for memory cards microSD. Works with manufacturer's systems u-boot and UbuntuCore.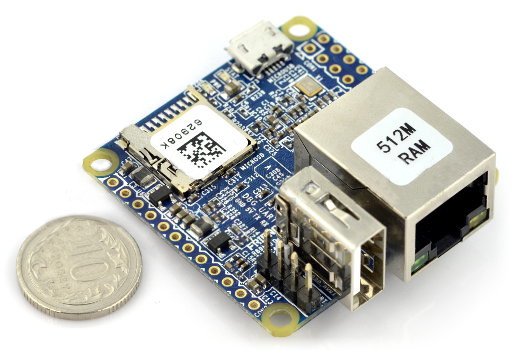 A great advantage of the board is its small size, the dimensions of the board are 40 x 40 mm.

Power of the device
Unfortunately, the manufacturer did not include the power supply kit. NanoPi Neo requires 5 V power and it is supplied via microUSB. In our store there is available the power supply with the resective connector microUSB.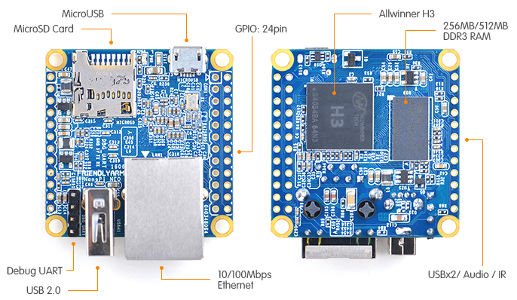 The device has a USB plug connector and an Ethernet port and many others.
Operating system
NanoPi works with the systems selected manufacturer: u-boot and UbuntuCore. The device'sdrive can be a microSD card, which can be purchased in our store.
Specification

Model
NanoPi Neo
Specification

Processor
Allwinner H3
Core

Quad-Core ARM Cortex A7

System

u-boot

UbuntuCore

Clock frequency
1.2 GHz
RAM

512 MB

Memory

microSD memory card

Connector GPIO

36-pin connector

for self-soldering

Power supply

5 V / 2 A - microUSB

Board size
40 x 40 mm
Interfaces
USB-Host

1 x USB A socket

2 x USB Host on pins 2.54 mm

Network interface
Ethernet 10/100 Mbps
Video
-
Audio

audio output and microphone

out on the GPIO connector

Link

UART, SPI, I2C, GPIO, PWM

Debugger

Serial port 4pin / 2.54 mm

Others

Built-in LED