Product description: CCS811 + BME280 - Clean air, temperature, humidity and pressure sensor - I2C - DFRobot SEN0335
A multifunctional environmental sensor from DFRobot that incorporates two chips: CCS811, corresponding to the air quality sensor, and BME280, which is responsible for measuring temperature, humidity and pressure. The module communicates via the I2C interface bus. It is powered by a voltage in the range of 3.3 V to 5 V. The sensor is compatible with the Arduino microcontroller, and connection to it is enabled by solder fields, to which the goldpin connectors included in the kit should be soldered.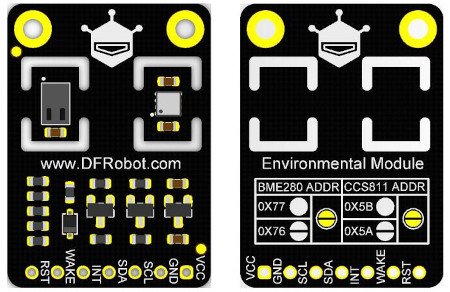 The sensor has leads in the form of solder fields, which enable connecting it with the controller module.
Sensor pinout description
VCC - power supply pin from 3.3 V to 5 V DC.
GND - ground pin.
SCL - communication interface clock line pin.
SDA - communication interface data line pin.
INT - external interrupt pin (activated by low state).
WAKE - toggle pin; low state - wake up / high state - sleep.
RST - RESET pin (activated by low state).
Suggested application
Multifunctional environmental monitor
Element of air cleaning projects
Weather forecasting
Intelligent ventilation system
Kit contents
Environmental sensor CCS811 + BME280
Goldpin connectors - 2.54 mm pitch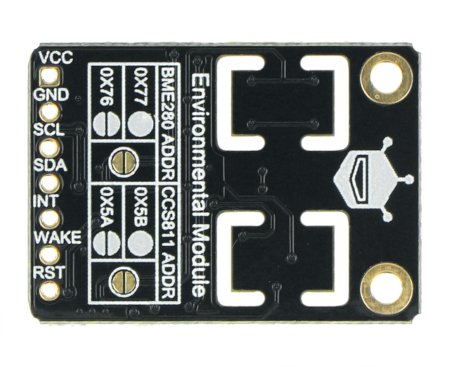 Includes integrated MCU controller and optimized low current modes.
Arduino compatible product
The manufacturer provides a Product Wiki Page which contains detailed user guide and libraries for Arduino IDE environment along with sample program code.
Specifications of the multifunctional environment module
Circuit: CCS811 and BME280
Supply voltage: 3.3 V to 5 V
Current consumption: < 20 mA
Communication interface: I2C
Connectors: goldpin - 2.54 mm pitch
Circuit: CCS811

module: air purity sensor
measuring range for eCO2: from 400 ppm to 8000 ppm
measuring range for TVOC: from 0 ppb to 1100 ppb
heating time: up to 15 s
Interface address: 0x5A (default) / 0x5B
integrated MCU controller
optimized low power consumption modes

Layout: BME280

module: temperature, humidity and pressure sensor
Interface address: 0x76 (default) / 0x77
temperature:

measuring range: -40°C to 85°C
resolution: 0.01°C
accuracy: ± 0,5°C

humidity:

measuring range: from 0% to 100% RH
resolution: 0.1% RH
accuracy: ± 2% RH
response time: 1 s
delay: ≤ 2% RH

pressure:

measuring range: from 300 hPa to 1100 hPa
resolution: 0.18 Pa
accuracy: ± 1 hPa

Module dimensions: 20 x 28 mm