Description
Sensor, compass for measuring a magnetic field in three axes. It is characterized by small size, low energy consumption and usage simplicity. It communicates via the I2C or SPI bus. Thanks to the integrated converters, the sensor operates with a voltage of 3.3 V and 5 V.
For communication with the central unit, the popular I2C bus (TWI) or SPI bus is used. The module has necessary for the correct operation of the system, passive elements. Pins are the solder fields for self-assembly of goldpin connectors (included) for connecting the sensor viawiresor to directly attach to thebreadboard.
The module has a built-in step-down converter, whereby it is possible to work with voltages from 2.5 V to 5.5 V. The regulator's output is available on the pin VDD and can power external systems with the current of up to 150 mA
Pins
The sensor has 9 pins for mounting the connectors ofgoldpintype - pitch of 2.54 mm (included). SCL and SDA pins tolerate voltage higher than 3.3 V, as they are attached to the voltage converter. The remaining pins are not connected and do not tolerate 5 V voltages, therefore they must be connected through an external logic level converter.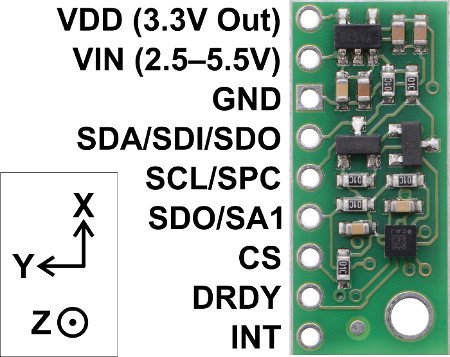 | Name | Description |
| --- | --- |
| VDD | Regulated output of 3.3 V, max. 150 mA. |
| VIN | The power supply of the system is from 2.5 V to 5.5 V. The converter aligns the SCL and SDA pins for the I2C and SPI bus to that level. |
| GND | The ground of the system. |
| SDA / SDI / SDO | Data line for I2C and input line for SPI. High status is equal to VIN, low status is 0 V. |
| SCL / SPC | Clock line for I2C and SPI. High status is equal to VIN, low status is 0 V. |
| SDO / SA1 | Data output line for SPI. High status is equal to VDD, low status is 0 V. It's working with the voltage of 3.3 V. |
| CS | The choice of the data bus. High status (VDD) turns on the I2C communication (set by default). Low status turns on the SPI bus. |
| DRDY | Ready data indicator. High status informs that the data is ready for reading. It works with a voltage of 3.3 V. |
| INT | Programmable interrupts. It works with a voltage of 3.3 V. The details inthe documentation. |
Specification
Supply voltage: 2.5 V to 5.5 V
Current consumption: 3 mA
Three axes: X, Y, Z
Communication interface:

I2C - addressing: 0011110b or 0011100b
SPI

Resolution: 16 bits for each axis
Measurement range (customizable): ±4, ±8, ±12, ±16 gauss
Board dimensions: 23 x 10 mm