Product description: Gravity - 360 degree rotary encoder - DFRobot SEN0502
Another product from the Gravity series from DFRobot in the form of a module with a 360 ° rotary encoder. The encoder has a resolution of 20 pulses per revolution , each pulse corresponds to one stroke. The board also has LEDs assigned to each encoder stroke, they allow you to visualize the encoder status in real time. Modules can be cascaded together. For communication, they use the I2C interface with configurable accuracy from 1 to 51 for each encoder stroke.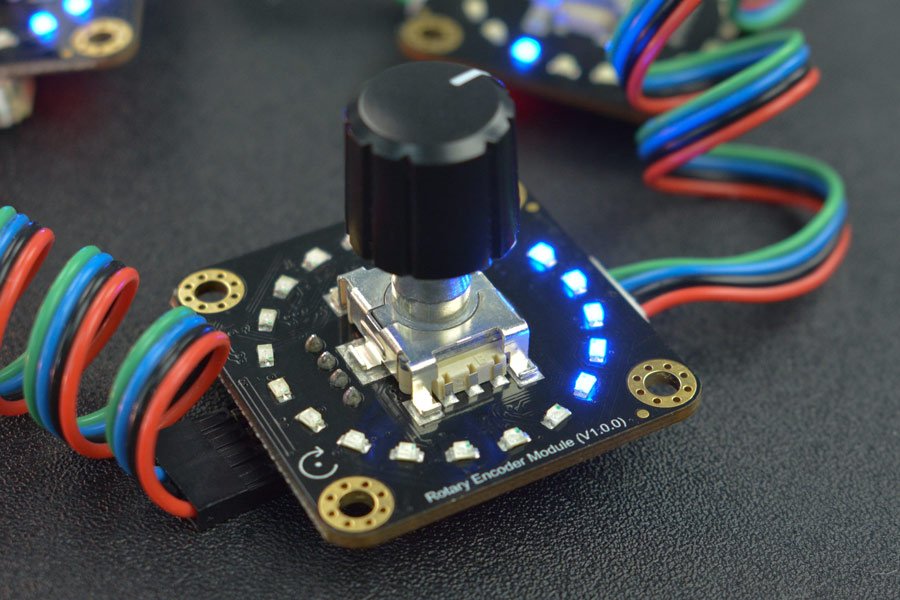 360 ° rotary encoder, 20 pulses per revolution.
Main features of the encoder module
Cascade connection possible
I2C data output
Built-in LED indicator
Support for 4 different I2C addresses
Application of the encoder
car electronics
Multimedia speakers
Instruments and apparatus
Smart home
Volume control
Speed regulation
Light adjustment
Rotary encoder specification
Working voltage: 3.3 V to 5 V
Total rotation angle: 360 °
Pulses per revolution: 20
Interface: two Gravity I2C connectors
Maximum number of cascaded devices: 4
Service life: 30,000 ± 200 cycles
Contact resistance: less than 100 mΩ
Insulation impedance: above 100 MΩ
Oscillation: Less than 10 ms
Working temperature: -30 ° C to 80 ° C
Accuracy: 1 to 51
Minimum value set: 1 (lights up 1 LED at 2.5 turns)
Maximum value set: 51 (lights up with one LED for 1 turn)
Memory: 0 to 1023
Dimensions: 37 x 37 mm
Kit contents
1x Gravity - 360 degree rotary encoder - DFRobot SEN0502
1x Gravity I2C / UART cable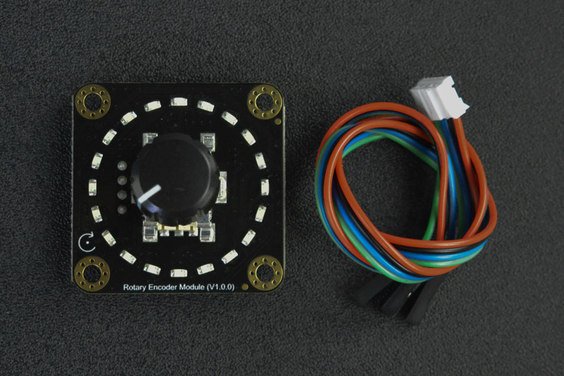 Kit contents.
‌