Description
Analog sensor of the high temperature, operating in the range from 30°C to 350°C. It is powered with a voltage of 3.3 V to 5.5 V. The kit has a PT100 probe and cable adapted for the Gravity DFRobot IO Expansion Shield.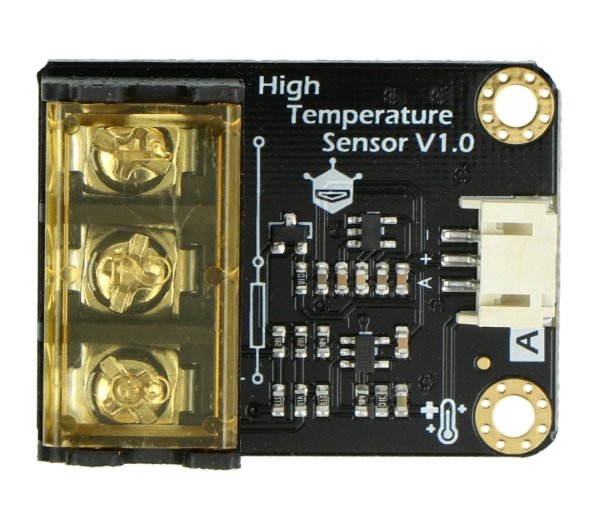 The product is compatible with Arduino
Sample code and detailed information can be found inthe user guide.
Connection
The output is an analog voltage signal proportional to the measured acceleration. The sensor can be controlled using any microcontroller with the analog-digital converter, for example, a set ofArduinoorSTM32Discovery.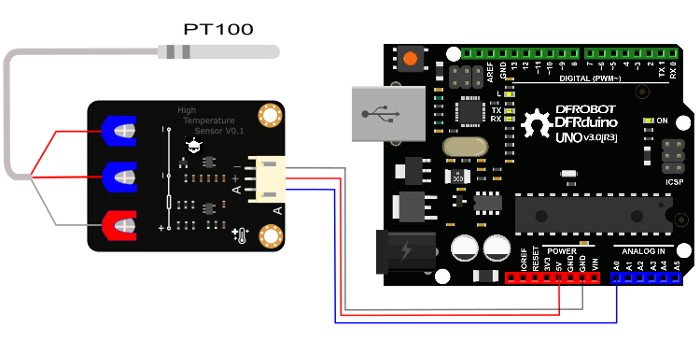 Example of connecting the sensor withArduino.
Specification
The main module

Supply voltage: from 3.3 V to 5.5 V
Analog voltage of the output: from 0.2 V to 2.8 V
Working temperature: from 30°C to 350°C
Waterproof: not
Cable for connection toGravity DFRobot IO Expansion Shield
Dimensions: 42 x 32 x 18 mm

Probe PT100

Operating temperature: -20°C to 400°C
Accuracy: 0.5°C
Cable length: 2 m
Waterproof: Yes
Set includes: