Product description: ReSpeaker USB Mic Array - voice assistant
The ReSpeaker USB Mic Array is a USB enclosed version of ReSpeaker Mic Array v2.0. The device can work as amicrophoneduring a video conference or as a voice assistantto controlhome devices. It has a high qualitydirectional microphone with noise reduction.
Compared to the previous version of Mic Array 2.0,the USB Mic Array is enclosed in a housing with LED backlighting and has a microUSB port and a mini jack port moved to the back of the board. The device is optimized for power management. ReSpeaker is equipped with such algorithms as:DOA(Direction of Arrival),AEC(Atomatic Echo Cancellation),AGC(Automatic Gain Control) andNS(Noice Supression).
Main features of the ReSpeaker
Plug & Play: no additional drivers required, works with Windows, Linux and Android
Detects voice with 5 m in 360° range
Acoustic algorithms implemented:

DOA (Direction

of Arrival)

AEC (Automatic Echo Cancellation)

AGC (Automatic Gain Control)

NS (Noice Suppression)

Built-in jack connector to connect headphones or speaker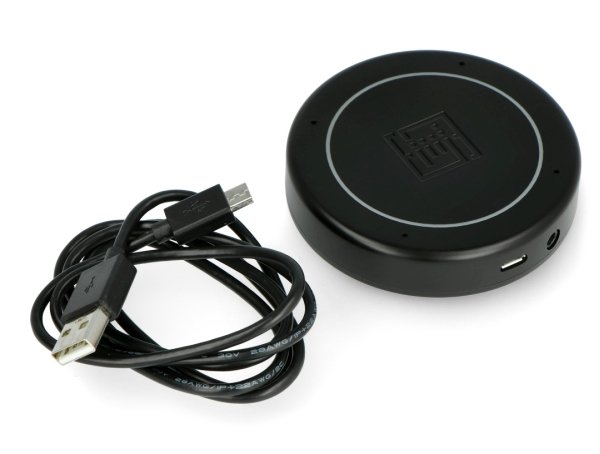 ReSpeaker USB Mic Array.
Application
Voice pick-up device

Home automation device

Car voice assistant

Voice controlled robot
ReSpeaker USB Mic Array specifications
System: XMOS XVF-3000
4 high quality digital microphones
Supports long distance voice detection
Built-in acoustic algorithms
12 programmable RGB LEDs
Microphones: ST MP34DT01TR-M
Frequency: -26 dBFS (omnidirectional)
Acoustic overload point: 120 dBSPL
SNR: 63 dB
3.5 mm mini jack connector
Power supply voltage: 5 V DC from the microUSB port
Dimensions: 77 mm (diameter)
Weight: 43,6 g
The set includes
ReSpeaker USB Mic Array
MicroUSB cable
Operating instructions