Product description: ZigBee Tuya ZIG-WVZ water/gas ball valve actuator
A simple controller allowing remoteclosing or opening of a ball valve witha lever. Servo-based device allows to close the valve with water or gas supply in case of e.g. flooding or detection of harmful gas. It can be combined with a suitable sensor to form an automated system. The connection is based on the ZigBee network. Aconnection to the ZigBee gateway is requiredforthesensor to function properly.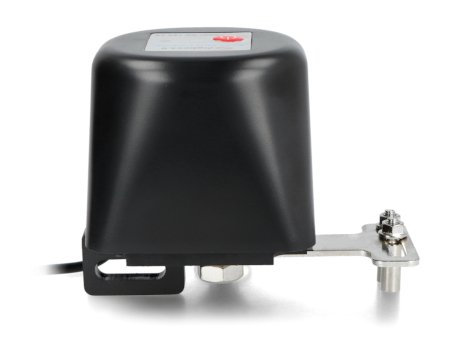 ZigBee ball valve actuator.
Note
The device to work properly requires a connection to theZigBeegateway,which can be purchased separately.
Main features of the valve actuator
Easy to install without interfering with the existing installation
Remote or automatic control from anywhere in the world in Tuya / Smart Life application
Easy integration into the application
Control by schedule, timer or other devices or sensors
Watertight housing
12 V power supply (power supply included)
Possible local control by means of a button on the housing
Built-in clutch allows manual control of the valve lever position in case of a power failure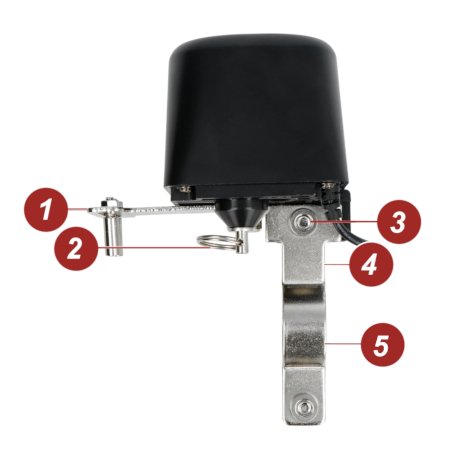 | N. | Description |
| --- | --- |
| 1 | Actuator arm |
| 2 | Clutch for manual adjustment of the lever |
| 3 | Bracket attachment screw |
| 4 | Clamp attachment bracket |
| 5 | Fixing bracket |
Example of application
Control of gas or water supply according to schedule or timer
Automatic watering of the garden
Wide range of agricultural applications
Automatic closure of the water supply when the sensor detects flooding
Automatic closure of the gas supply when a leak is detected by the sensor
Water / gas valve actuator specifications
Communication protocol: ZigBee 3.0 according to standard 802.15.4
Antenna: built-in
Status indicator: LED
Power supply voltage: 12 V (power supply included)
Operating temperature: -20°C to 60°C
Operating humidity: 0% to 80% RH
Housing dimensionss: 80 x 70 x 70 mm
Weight: 350 g
The set includes
ZigBee water / gas valve actuator
Mounting bracket - 2 pcs. + screws
Power supply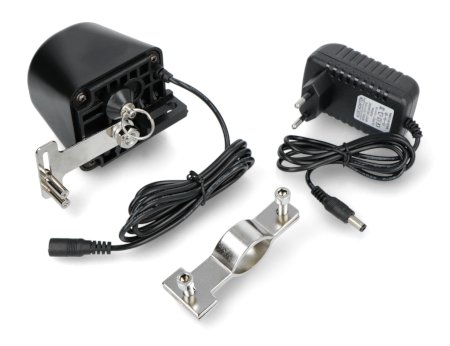 Set contents.