Description: LSM6DSOX + LIS3MDL IMU 9DoF FeatherWing - 3-axis accelerometer, gyroscope and magnetometer - Feather cap - Adafruit 4565
A module from the Feather family.The sensor is a combination of accelerometer, gyroscopeand magnetometer. It allows to measure acceleration, angular velocity and magnetic field in three axes.Resistant to noise and interference, making measurement fast and precise. The module consists of two sensors: LSM6DSOX and LIS3MDL.
The module contains three sensors, which together provide the possibility of measuring up to 9 degrees of freedom. The combination of the information coming from each sensor gives the possibility to determine the exact orientation of the board. Details of this task can be found inthe guideprovided by the manufacturer.
Arduino compatible product
The manufacturer provides auser guidetogether with the library.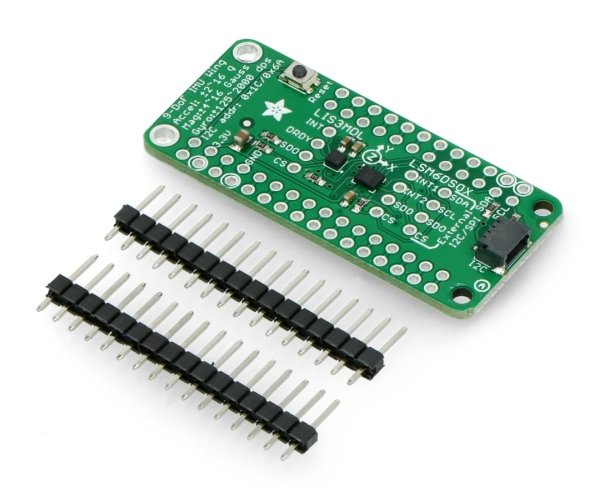 3-axis accelerometer, gyroscope and magnetometer by Adafruit.
The LSM6DSOXis responsible for the accelerometer and gyroscope. The range of data and transmission speed is very flexible so that during the measurement we obtain:
For theaccelerometer:

± 2 / ± 4 / ± 8 / ± 16 g

at an update frequency of 1.6 Hz to 6.7 kHz

Forthe gyroscope:

± 125 / ± 250 / ± 500 / ± 1000 / ± 2000 dps

at 12.5 Hz to 6.7 KHz.
The module has a number of useful functions built in, including touch detection, activity detection, pedometer and step counter, as well as basic gesture recognition.
TheLIS3MDLis responsible for the operation of the magnetometer. With it, you can determine where the magnetic force comes from.
Guided tours
The leads on the module are divided into two separate environments: magnetometer and gyrocompass and accelerometer. More information about the leads can be found inthe user guide.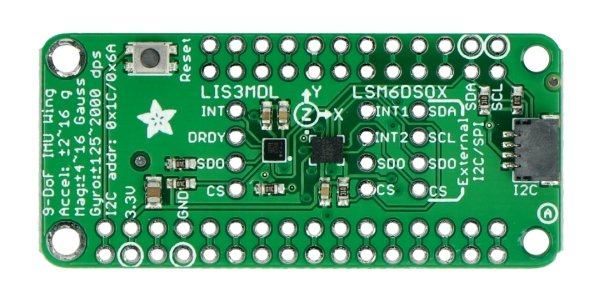 | Pin | Description |
| --- | --- |
| Vin | 5-volt power pin. |
| 3Vo | Output voltage 3.3 V. |
| GND | The weight of the system. |
| SDA | Data line for I2C. |
| SCL | Clock line for I2C. |
| SDO | Data output line for SPI. |
| CS | Data bus selection. |
| DRDY | Data readiness indicator. |
| INT / INT1 / INT2 | Programmable interruption. |
Specification of the LSM6DSOX 3-axis accelerometer and I2C/SPI gyroscope
Accelerometer: ± 2 / ± 4 / ± 8 / ± 16 g at an update frequency of 1.6 Hz to 6.7 kHz
Gyroscope: ± 125 / ± 250 / ± 500 / ± 1000 / ± 2000 dps at 12.5 Hz to 6.7 KHz

Conversion: continuous and single

Advanced pedometer, step sensor and step counter

Significant motion detection, tilt detection

Communication interface: SPI / I2C

Standard breaks: free fall, excitation, orientation 6D / 4D

Address I2C 0x6A or 0x6B
Specification of the LIS3MDL

of the I2C/SPI

3-axis 

digital magnetometer
Supply voltage: 2.5 V to 5.5 V
Power consumption: 3 mA
Three axes: X, Y, Z
Communication interface: SPI / I2C
Resolution: 16 bits for each axis
Measuring range (configurable): ±4, ±8, ±12, ±16 gauss

I2C address 0x1C or 0x1E

Plate dimensions: 23 x 10 mm