Product description: Gravity - electrochemical oxygen sensor (0-100Vol) - I2C - DFRobot SEN0496
Electrochemical oxygen sensor from the DFRobot Gravity series. The full-size oxygen sensor uses the original AO2 CiTiceL probe, its measuring range is from 0% to 100% Vol . For communication, it uses the I2C interface, it can be used for such applications as oxygen generator, car exhausts, air-fuel ratio detection. The module is powered with the voltage from 3.3 V to 5.5 V, so you can work with the most popular boards, such as Arduino , Raspberry Pi or ESP32 .
The included module has a built-in calibration algorithm that can quickly perform a one-point or two-point calibration to accurately measure the oxygen concentration in the environment. The electrochemical probe is characterized by noise immunity , high stability and sensitivity, and a two-year service life. The sensor is equipped with a Gravity connector , which allows for quick and trouble-free connection with the main controller.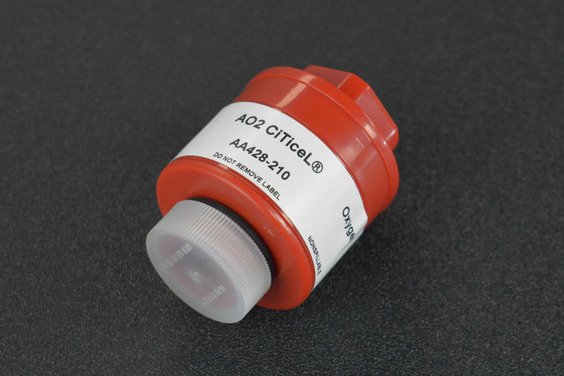 AO2 oxygen sensor probe.
The main characteristics of the oxygen sensor
Type: electrochemical
Strongly immune to interference
Highly stable and responsive
Equipped with Gravity I2C communication interface
Calibration algorithm
Measuring probe AO2 CiTiceL
It is powered with the voltage from 3.3 V to 5.5 V
Detects oxygen in the range from 0% to 100% Vol
Application of an electrochemical oxygen sensor
Oxygen generators
Car exhaust
Air-fuel ratio detection
Leads of the oxygen sensor
The set consists of two elements: a plate with an adapter and the AO2 CiTiceL measuring probe. It uses the I2C interface for communication via the Gravity connector.
+ : supply voltage from 3.3 V to 5.5 V
- : mass of the system
C : clock line of the I2C bus
D : data line of the I2C bus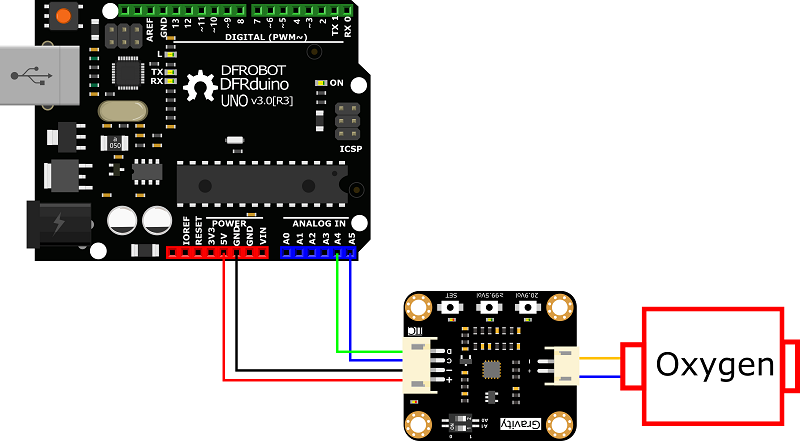 Connection example with Arduino.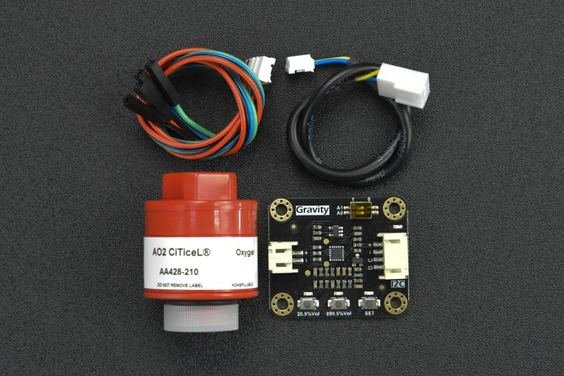 Kit contents.
Specification of the electrochemical oxygen sensor
Unit detected: oxygen concentration
Measuring range: 0% to 100%
Working voltage: 3.3 V to 5.5 V
Output signal: I2C
Working pressure range: from 0.5 bar to 2 bar
Operating temperature range: -20 ° C to 50 ° C
Operating humidity range: 0% to 99% RH
Response time: less than 5 seconds
Service life: 2 years
Mounting hole size: inner diameter 3.1mm / outer diameter 6mm
Dimensions: 32 x 27 mm
Kit contents
Oxygen sensor signal converter module
AO2 oxygen sensor probe
4-pin Gravity cable
Molex 2510 PG2.0 cable - 20 cm
‌