Product description: DFRobot Gravity - analog pH sensor / meter
Analog pH meter compatible with Arduino. Allows you to measure the quality of water. Has an accuracy of +/- 0.1 pH, which is sufficient for most applications. Equipped with LED, BNC connector and PH2.0 interface. Comes with a cable suitable for DFRobot IO Expansion Shield.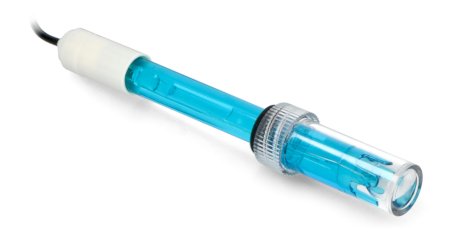 Product compatible with Arduino
Sample code and detailed information can be found in the user guide.

The sensor works with any microcontroller equipped with analog inputs, including Arduino. To read the data, simply connect the power supply and output pin to any analog input of the microcontroller and read the measurement result.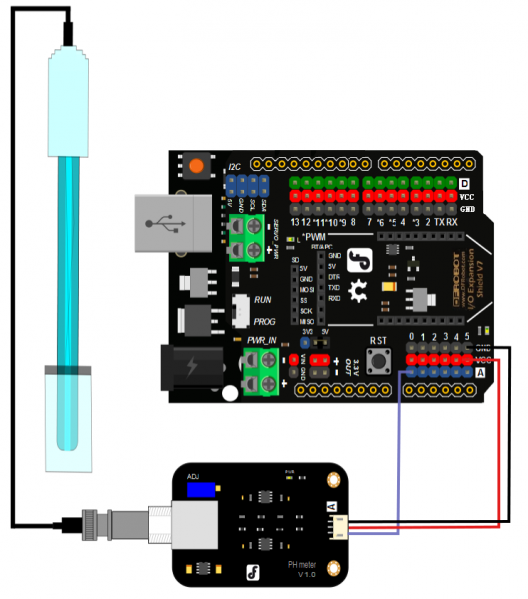 Example of sensor connection.
Specification
Supply voltage: 5 V
Measuring range: from 0 pH to 14 pH
Operating temperature: from 0 °C to 60 °C
Accuracy: +/- 0.1 pH (25 °C)
Response time: up to 1 min
pH sensor with BNC connector
PH2.0 interface
Gain adjustment by potentiometer
Cable for connection to DFRobot IO Expansion Shield
Board dimensions: 43 x 32 mm
DFRobot Gravity analogue pH sensor / meter
This is the second version of the Gravity series pH sensor from DFRobot. Compared to the first version, the accuracy of the sensor has been improved. Analog pH meter can be used in the construction of measuring systems to test the quality parameters of environmental conditions as a pH meter of water, as well as in laboratory equipment to test the reaction of chemical substances. The built-in integrated voltage regulator allows the module to be powered from sources ranging from 3.3 V to 5.5 V, typical of most prototype boards such as Raspberry Pi and Arduino.
DFRobot Gravity analog pH sensor - principle of operation and application examples
The Gravity series pH indicator can work with Arduino boards, among others. Thanks to this, you can easily connect the sensor to the control system without any soldering and upload ready-made library to the memory of microcontroller communicating with the sensor. By measuring the pH of the substance of interest, we can find out if the substance is acidic (0
DFRobot Gravity - analog pH sensor / meter
The DFRobot Gravity - Analog Water pH Meter is a fully instrumented sensor that, when connected to a suitable device, will return a measurement result. The product is not only the sensor itself, but also the container in which the liquid to be tested is to be placed, as well as all necessary wires, PH2.0 interface, electronic circuit with LED, necessary outputs and potentiometer.

The sensor just needs to be connected to any development board with inputs for analog signals (for example, to Arduino). The device will quickly return a ready result.
Water PH meter
The device is able to measure the PH of water with an accuracy of tenths of a part. With it, you can easily build a drinking water fitness station.

A very big advantage of the product is that you do not need to do any soldering work before use. To get started, just connect the sensor to, for example, Arduino and use the ready-made library (for reading values from this sensor) and then display them on the screen.