Product description: Totem Mini Lab construction kit - TotemMaker TKM-ML1
A set of elements allowing you to create your own laboratory kit based on theATMega328Pmicrocontrollerusing ArduinoIDEenvironment.The ready-made platform allows you to learn the basics of electronics, programming and conducting experiments.Rigid constructionmade of Totem blocks allows to avoid problems with assembly, delicate and disorderly connections, which significantly affects the comfort ofusing the set.
TotemDunio - ATmega328 microcontroller module
The module is equipped withATmega328microcontroller similarly to ArduinoUno,so the set enables programming in ArduinoIDEenvironment.All output pins on the board are equipped withovervoltageandshort-circuitprotectionwhich greatly facilitates the prototyping process while avoiding the risk of damaging the board. On the surface of the board there is a switch that allows you to select the logical voltage with which it should work, a choice of 3.3 V and 5 V. The board connects to the LabBoard platform with a 34-pin IDC cable.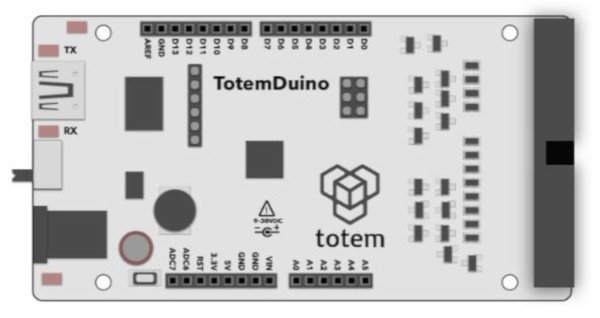 TotemDuino module with ATmega328 microcontroller.
LabBoard - Experimental platform
LabBoard has a dual use, it can be used asan extension for TotemDuino witheasy access to I/O ports and can be used as a measuringand testingunit. On board the LabBoard is a 12-bit, 3-channel digital to analog converter. The board offers the possibility to measure voltage at 3 inputs in the range of +/- 0.5 V, +/- 5 V and +/- 50 V, to measure current up to 800 mA and to measure frequency up to 1 MHz. In addition, the platform has a pulse generator capable of generating a finite or infinite series of pulses of programmable width and duration and their 999.999.999.999 pulse reading in the signal.

LabBoard platform.
Expansion of the capabilities of the construction kit
The manufacturer has prepared side panels extending the capabilities of the main set, the panels have different applications depending on the version, 3 models can be distinguished:
Audio panel- including an amplifier with a loudspeaker, LED control indicator and a function generator.
I/O panel- containing additional switches, potentiometers, relay and 3.5 mm jack connector.
Sensor panel- contains a microphone, DHT11 sensor, thermistor, buzzer and OLED display 128 x 64 px communicating through the I2C interface.
Set includes:
1 x TotemDuino board
1 x LabBoard platform
1 x IDC cable 34-pin
1 x Totem construction elements
1 x 12 V DC power supply 1.5 A - DC plug
2 x contact plate - 700 holes
40 x 20 cm connecting cables
1 x USB cable - microUSB - 1 m
1 x Operating Instructions