Description
Converter enables the connection between two popularserial interfaces USB and UART.The module is based on the reliable system FT232RL (documentation)by the company FTDI that ensures stable operation and works with the popular operating systems.
The module can be used to exchange data between the computer and the microcontroller system or for programming the electronic sets with remote serial interface, e.g.ArduinoorSTM32Discovery.To connect the system to the computer you needa cord with a micro-usb.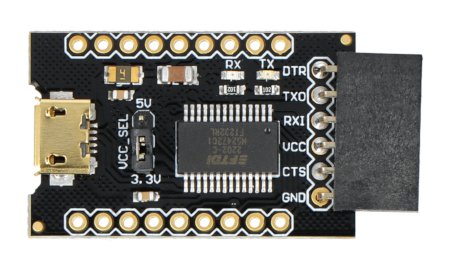 The module has a micro-usb connector 6-pin FTDI connector.
Inputs
The module has withdrawnand signed pins of the IC FT232. Holes are for standardconnectors goldpinraster 2.54 mm. The converter connects to the computer using a cable via a microUSB connector.
The system can be configured so that it also worked with voltage 3.3 V. For this purpose it is necessary to move the jumper to 3.3 V.