Description: Cytron MD20A
Single-channel DC motor controller based on MOSFET transistors. Enables control of motor speed through PWM channel. Continuous current per channel is 20 A (momentary 60 A). Supply voltage from 6 V to 30 V. For proper operation the module does not require an additional Arduino type controller, the controller can be controlled by means of buttons on the board.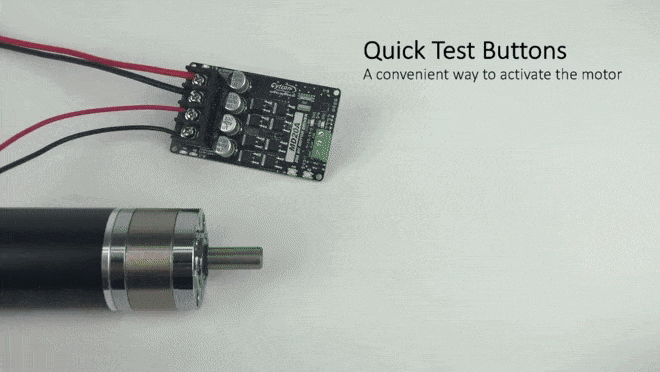 Cytron MD20A can be controlled via PWM and DIR inputs. Logic voltage ranges from 1.8 V to 12 V and is compatible with most controllers such as Arduino, RaspberryPi, PLC.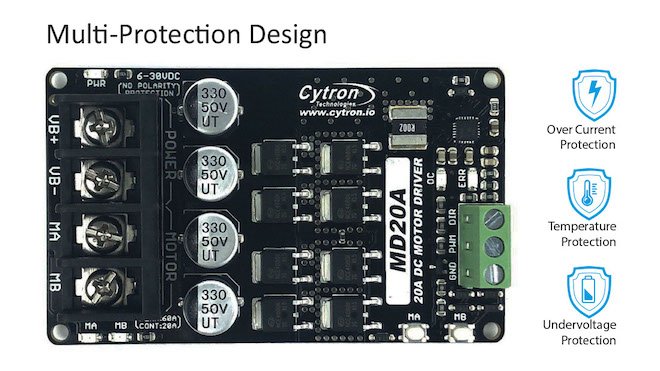 The module also has overcurrent protection to protect the controller from damage when the motor stops or when a motor is too big. In case the motor tries to draw more current, the controller limits it to the maximum. The controller also has protection against too high a temperature. If the board temperature increases, the current limit is limited.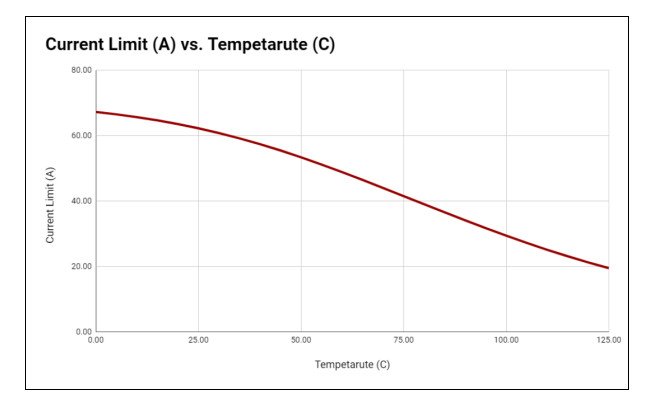 Current limit diagram as the temperature rises
Attention!
The controller does not have protection against reverse polarity, pay special attention to the way of connecting the module power supply.
Main features of the Cytron MD20A motor controller
Control of the direction of rotation of one DC motor
Motor supply voltage: 6 V to 30 V
Maximum continuous current: 20 A
The current of the moment: 60 A
Operation testing buttons
Status LEDs for motor output
PWM and DIR inputs
1.8 V / 3.3 V / 12 V logic-compatible input
PWM frequency up to 20 kHz (output frequency is the same as input frequency)
Compatible with sign-magnitude

and locked-antiphase

PWM operations

Overcurrent protection with active current limit

Temperature protection

Under-voltage protection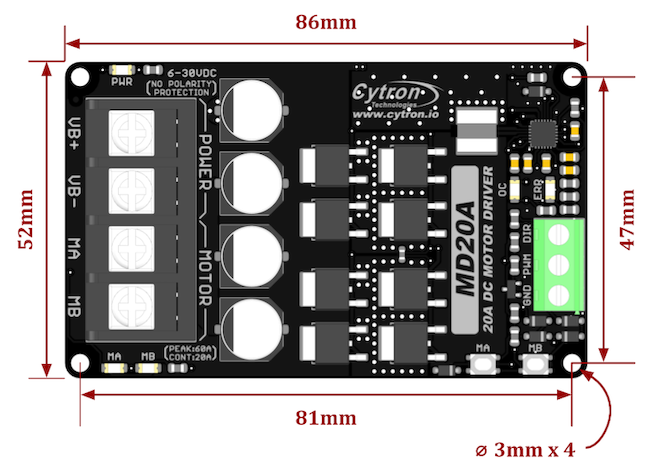 Application examples for the Cytron MD20A module
Automatically controlled AGVs

Solar Tracker

Game simulator

Mobile robot
Cytron MD20A motor controller interface
The Cytron MD20A kit includes