Product description: Grove - MCP9808 - temperature sensor - I2C.
Temperature sensorMCP9808is characterized by high accuracy. Its measuring range isfrom -40°C pd 125°C.The measuring accuracy is0,25°C.It communicates through theI2Cinterface. There is a pin on the board, which can be used to triggeran alarm incase of too high a temperature. The usercan also choose an I2C address.The module is poweredfrom 3.3 V to 5 V.
Main features of MCP9808 sensor
High accuracy
Selectable resolution: + 0.5°C

, + 0.25°C, + 0.125°C, + 0.0625°C

Programmable alert output pin

I2C interface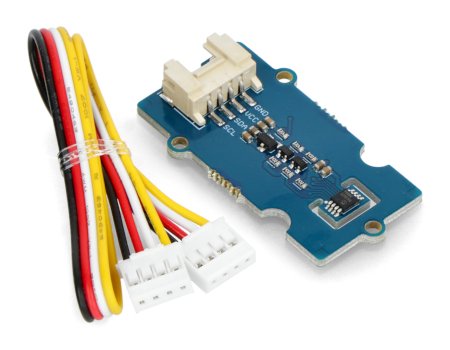 Temperature sensor MCP9808, Grove cable also included.
Arduino compatible product
The manufacturer providesa user guideshowing its connection and programming.
Connection of temperature sensor
The sensor module MCP9808 communicates via the I2C interface. It is equipped with Grove connector, for easier connection of the module with dedicated overlays for ArduinoorRaspberry Pi.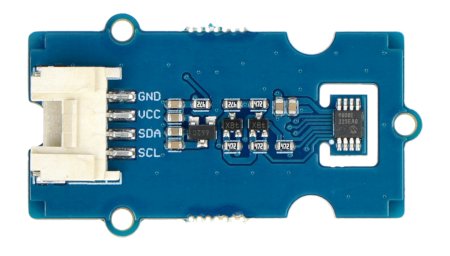 MCP9808 temperature and humidity sensor.
| Pin . | Description |
| --- | --- |
| GND | The weight of the system. |
| VCC | The supply voltage is 5 V. |
| SDA | I2C bus data line. |
| SCL | I2C bus clock line. |
Sensor specification MCP9808
Power supply voltage: 3.3 V or 5 V
Temperature measurement:

Range: -40°C to 125°C
Resolution to choose from:

0,5°C
0,25°C
0,125°C
0,0625°C

Accuracy:

0.25°C (typical) from -40°C to 125°C
0.5°C (max.) from -20°C to 100°C
1°C (max.) from -40°C to 120°C

Interface: I2C
I2C address: 0x18 (default) / 0x18 to 0x1F (optional)
Connector: Grove
Dimensions: 40 x 20 x 7 mm
Weight: 9,2 g