Description
The device is used as the programmer and debugger for STM8 and STM32modules. It works with voltages 3.3 V and 5 V, selectable by jumper. It has a built-in 500 mA fuse to prevent damage to the programmable modules.

Module with attached cable with 4-pin plug, common.
Specification
Programmer / debugger modules STM8 andSTM32
Output voltage 3.3 V and 5 V selectable with jumper
Connecting to a computer via USB
The programmer allows you to access Flash ROM, EEPROM, FAILURE rate, etc.
The debugger supports step by step breakpoint functions, viewing variables and registers, etc.
The possibility of firmware updates
Supported software:

ST-LINK Utility v2.0+
STVD Version 4.2.1+
STVP Version 3.2.3+
IAR EWARM Revision v6.20+
IAR EWSTM8 Revision v1.30+
KEIL RVMDK Revision v4.21+
ATOLLIC
TASKS
Connection with PC
To connect with computer through the USB interface, you must installdrivers, which are available for Windows 7, Vista and XP. Currently, the manufacturer does not provide software for Windows 8 and 10.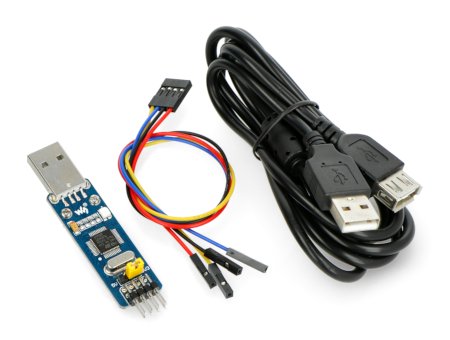 Connection with STM8 / STM32
Connection with STM8 microcontrollers through the interface SWIM
| Pin Code Of The Debugger | Module Pin | Description |
| --- | --- | --- |
| VCC | MCU VCC | The module power. |
| SWM | MCU SWIM | Pin SWIM interface. |
| GND | GND | Ground of the system. |
| RST | MCU RESET | Reset. |
Connection with STM32 microcontrollers through the SWD interface
| The Pin Code Of The Debugger | The Module Pin | Description |
| --- | --- | --- |
| VCC | MCU VCC | The module power. |
| SWDIO | MCU SWDIO | Pin SWD interface |
| GND | GND | Ground of the system. |
| SWCLK | MCU SWCLK | Line clock interface SWD. |
Kit contents
Programmer / debugger STM8 / STM32
1x 4-pin female cable
USB A - USB A male female cable