Product description: Control unit for sliding gates KSE380/KSE180
Control unit for sliding gates KSE180 / KSE380 with radio receiver with frequency of 433.92 MHz. Soft start and stop of the operator prevents the operator from pulling out during operation. The "auto-reverse" function causes automatic reversing of the operator in case of an obstacle. Equipped with the possibility to automatically close the gate after a set time has elapsed. The optical protection allows you to connect a photocell to detect an obstacle and the operator will react accordingly.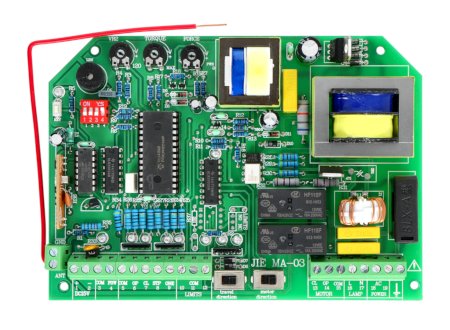 Main features
Soft start and stop
Auto-reverse function
Control range up to 100 m
Easy installation of signalling lamp
Automatic closing after a set time.
Additional remote controls can be programmed
Amperometric protection
Optical protection
Specification
| Attribute | Value |
| --- | --- |
| Supply voltage | AC 230 V / 50 HZ |
| Output to motor | 230 V / 5 A |
| DC output | 15 V |
| Radio frequency | 433,92 MHz |
| Maximum range | up to 100 metres |
Practical sliding gate control
The KSE380/KSE180 sliding gate control unit is exceptionally well thought-out and convenient to use. The control unit is equipped with a radio receiver that enables remote control from a distance of up to 100 metres.
In addition, the device has built-in practical functions such as soft start and stop, reversing when an obstacle is detected, the ability to program additional remote controls and solutions that facilitate installation of a lamp indicating the movement of the gate.
Application of sliding gate controllers
Controllers for sliding gates are used primarily in home automation installations. Thanks to such a device you can easily open the gate from the remote control, while sitting in your car or even from inside the house.
The module communicates using radio waves with a frequency of 433.92 MHz, so it is not a source of electromagnetic interference for devices using technologies such as WiFi or Bluetooth.