Description
A module that allows you to connect 4strain-gauge beams with twelve wires in 4-wire Wheatstone bridge configuration, i.e. wires connected in the following way:
Red (RED)- excitation is positive or VCC (power supply)
Black (BLK)- negative

excitation

 or GND (ground)
White (WHT)- the gain is positive, a positive signal or a positive output
Green (GRN)- the gain is negative, the signal is negative or the output is negative
Yellow (YLW)- ground, optional input enables to reduce the electromagnetic interference
The module works withthe HX711 amplifier. In addition, the board has a place for the temperature sensorDS18B20, in the case of significant temperature difference between the sensors and amplifier. The temperature read can be carried out remotely via RJ45 connector, usingthe Ethernet cable.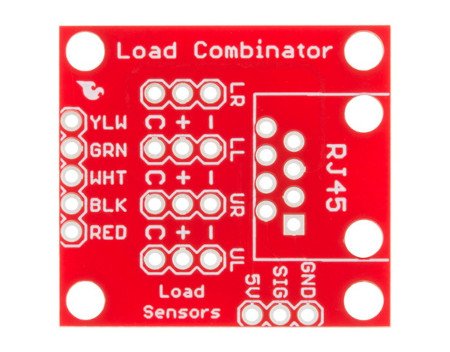 Specification
The possibility to connect 4 strain-gauge beams in 4-pin Wheatstone's bridge
The possibility of mounting a temperature sensor DS18B20
The possibility of mounting RJ45 connector
Pins: holes

 

forgoldpin connectors - 2.54 mm(strap can be purchased separately)
Module dimensions: 30 x 22 mm