Product description: Grove - 12-bit magnetic encoder AS5600 - Seeedstudio 101020692.
Module with programmable12-bitmagnetic encodercircuitry. It can act as a magnetic encoder or magnetic potentiometer. Unlike a traditional potentiometer, the AS5600 has greater precision, is non-contact and has no rotation limit. It is ideal for projects requiring non-contact angle measurement, such as robot arms.
Comparison of traditional and magnetic encoder
The AS5600 magnetic encoder has a programmable12-bitresolution. It can work as a magnetic potentiometer or encoder. Unlike a traditional encoder/ potentiometer, the AS5600 is: high-precision, non-contact, no angle limit.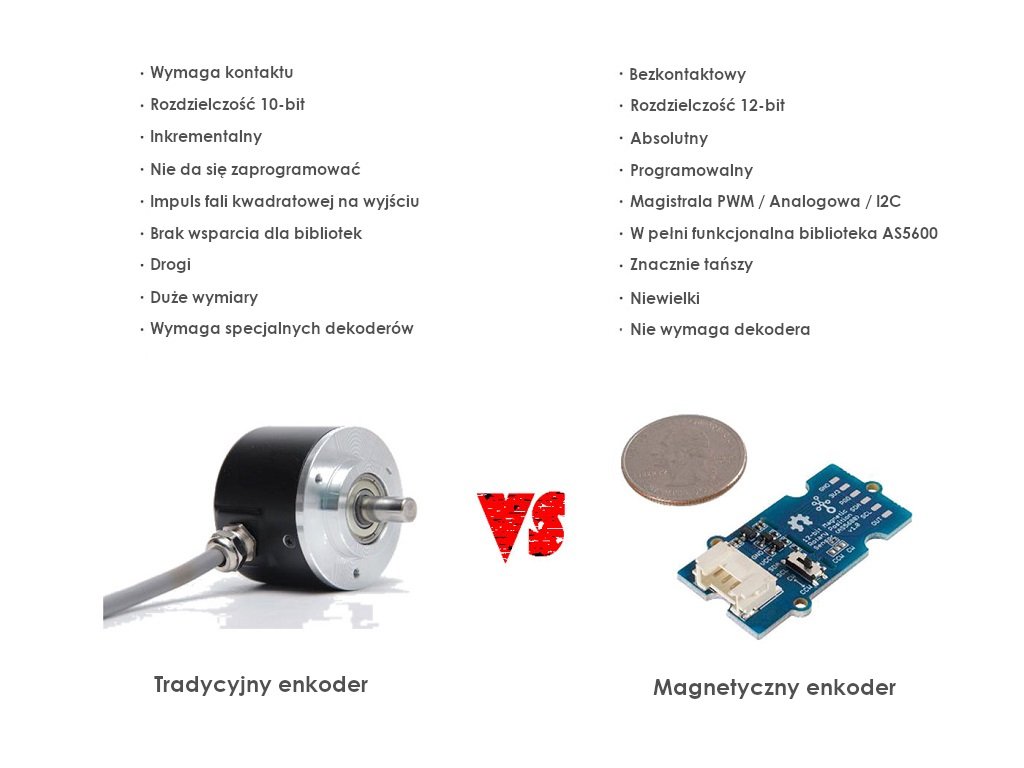 Encoder comparison.
Hall effect
TheAS5600's built-inHall sensorcan detect changes in magnetic field direction and has no angle limit. Magnetic field direction information is amplified by a built-in 12-bit A/D converter, the AS5600 can send4096 positions per revolution.The sensor communicates via I2C, the data type can be selected at the output (OUT pin): RAW or PWM / analog waveform. The maximum angle can be programmed, the maximum angle can be set between 18° and 360°, which means the angle measurement accuracy is up to 18/4096.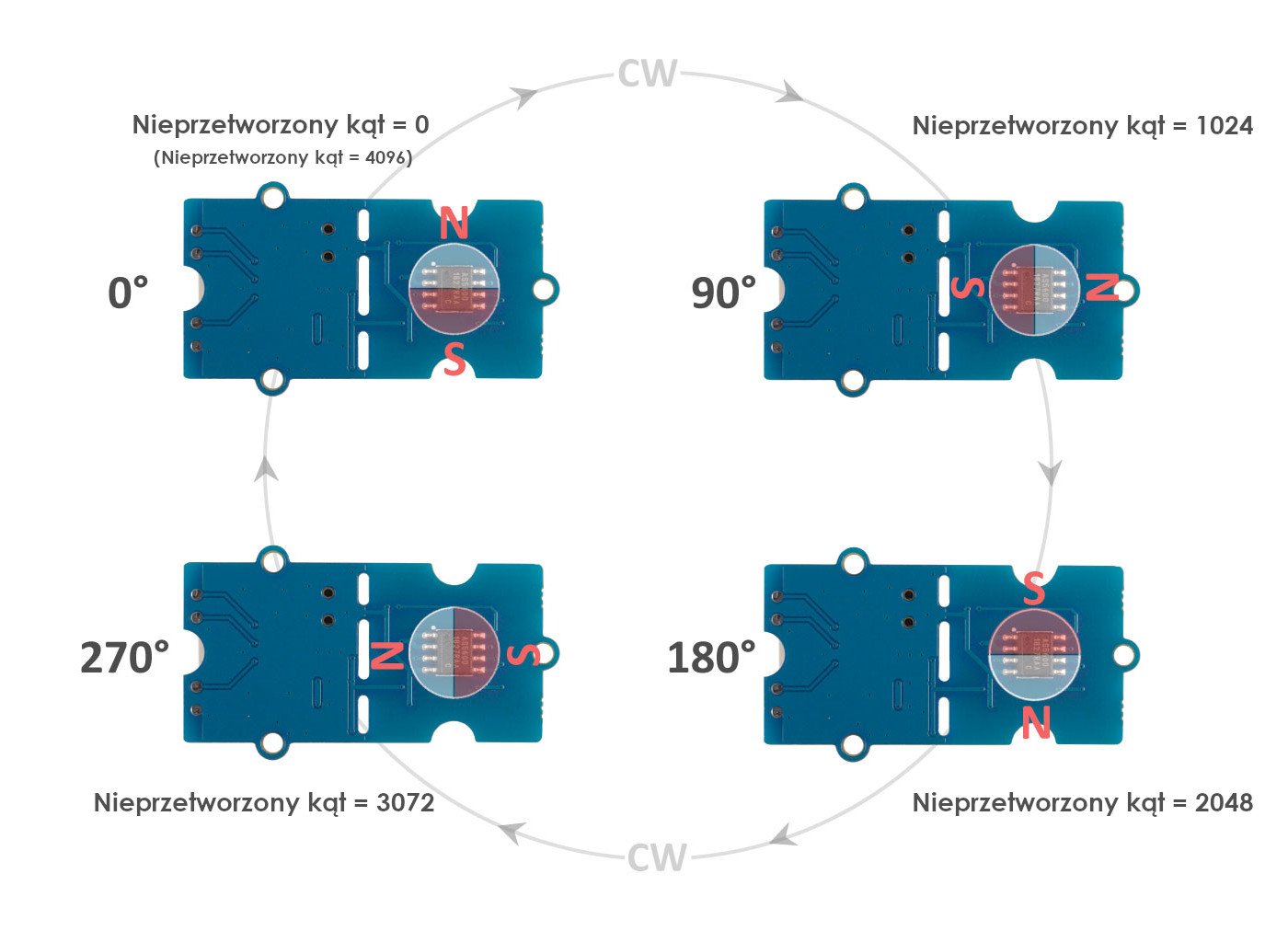 Angle measurement by sensor.
Attention!
The AS5600 has certain requirements for magnetic field measurement. Use a magnet with similar dimensions to the system. Measure as close to the magnetic field as possible and align the centre of the sensor with the centre of the magnetic field. The vertical distance between the sensor and the magnet should be between 0.5 mm and 3 mm.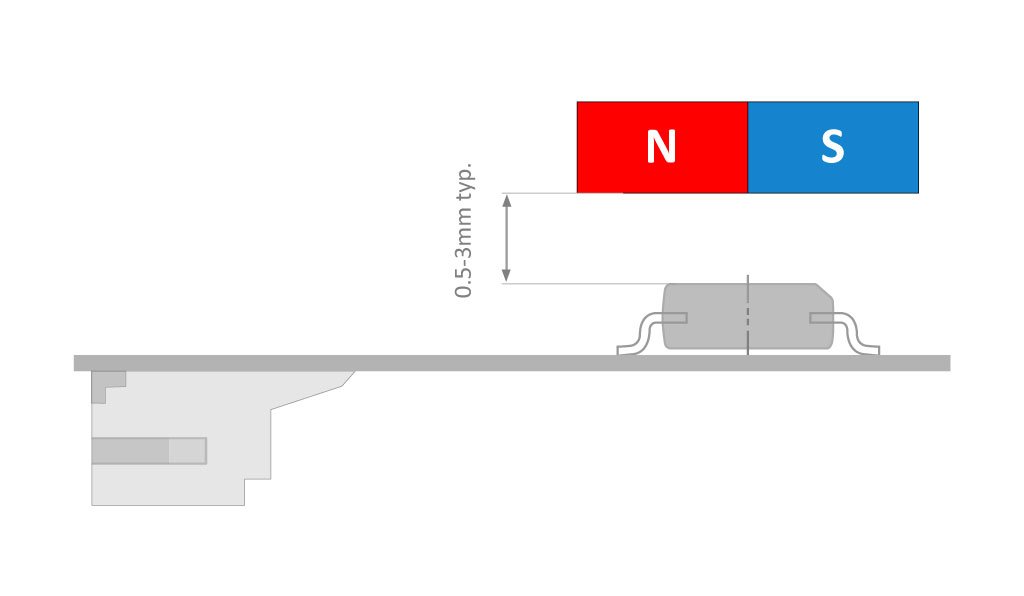 The distance between the sensor and the magnet.
Main features of the AS5600 sensor
Non-contact, no angle of rotation limitation
12-bit resolution, 4096 items per revolution
Grove I2C, PWM / analog output
Maximum programmable angle from 18° to 360°
AS5600 module outputs
The module communicates through the I2C interface, the built-in Grove connector allows you to easily connect it to the Base Shieldand Arduinooverlay.
Magnetic encoder specification AS5600
Power supply voltage: 3.3 V or 5 V
Input current: up to 100 mA
Angle range: maximum programmable angle range from 18° to 360°
Output: analogue / PWM
Interface: I2C - default address 0x36
Output resolution: 12-bit DAC
Operating temperature: -40°C to 125°C
Dimensions: 40 x 20 mm