Product description: Prodigy ZRX - 64-channel RTU/TCP relay module with USB/RS485/Ethernet inputs
The module with64250 V / 5 Arelay channels can be controlled viaModbus RTUviaUSB and RS485andModbus TCPviaEthernet. These ports allow the module to be controlled by any Windows, Linux, Mac or mini-computer, such as RaspberryPi.Additionally, it has8 digital I/Oand6 analogue inputs. Powered by12 V(power supply included). Support for industrial Modbus protocol, makes the module easy to use with most automation programs that support Modbus RTU / TCP.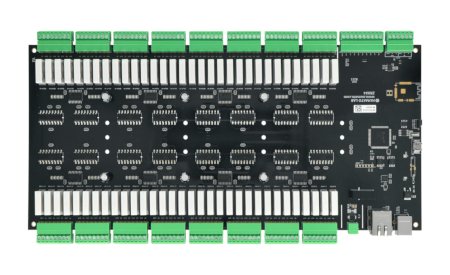 Prodigy ZRX - 64-channel Modbus relay module.
Flexible DIN rail mounting system, allows easy mounting and dismounting with screws. The module supports various functions such as, Relay Timer, Safety Timer (Watch Dog), programmable power status, etc.
Main features of the module
64 relays 250 V / 5 A each.
8 digital I/O and 6 analogue inputs.
USB CDC (serial) interface works with Windows, Linux, Mac and more.
Relay Timer, Watch dog timer, power status configuration, etc.
Possibility to write your own script or use mass of other available examples in different languages.
Detachable screw connectors for simple cable connection.
Power supply 12 V (power supply included).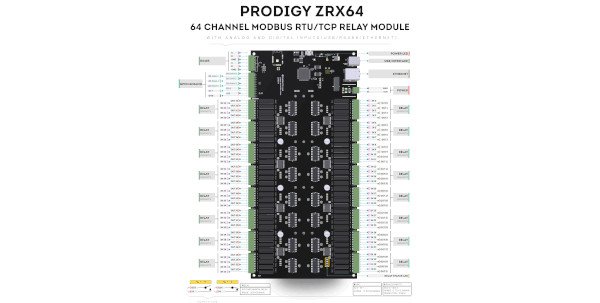 Prodigy ZRX - 64-channel relay module.
Module specification with 64-channel relays
Number of channels: 64
Power supply voltage: 12 V
Type of relay: mechanical
Maximum switching voltage: 250 V
Maximum switching current: 5 A
The voltage of the logical part: 3,3 V
GPIO quantity: 8
Number of analog inputs: 6
Analog input resolution: 12 b
Host interface: Ethernet, USB 2.0
Communication: Modbus RTC / TCP
Kit contents
Prodigy ZRX 64 Channel Relay Module
USB A to USB B cable
LAN cable (TCP)
Dedicated 12-volt power supply