Product description: Reflecting sensor QTR-L-1RC - digital (2 pcs)
The sensor consists of IR LED and receiver in the form of phototransistor. In addition to these two basic elements, in the circuit are: resistor limiting the transmitting LED's current 220Ω, and the time system on the basis of the 10nF and the resistor of 220Ω. Output are the time impulses, the duration of which depends on the color of the surface. The array below presents other examples of values depending on the distance and color of the surface.
| | | |
| --- | --- | --- |
| Distance | White surface | Black insulating tape |
| 6 mm | 100 us | 320 us |
| 25 mm | 160 us | 260 us |
The product is compatible with Arduino
The manufacturer has prepared a librarythat simplifies maintenance of the sensor for Arduino users.

Method of using
A typical sequence of the reading of sensors' values:
1. Turning on the IR LEDs (if previously disabled)
2. The significance of the I/O pins of the microntroller as outputs and the creation of a high status.
3. Waiting at least 10us. (charging the capacitor of 10nF)
4. Setting the I/O pins as inputs (high impedance status)
5. Measuring the discharge time of the capacitor by waiting until the I/O lines go into the low status.
6. Disabling the IR LEDs (optional).
The Pololu created AVR C/C++ library andlibrary for Arduino which facilitate the maintenance of the sensor.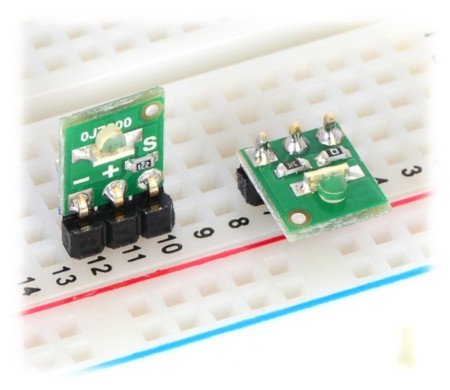 Daylight, especially sunlight can affect the operation of the sensor. In the case when the output voltage is too low, you should install a rim that protects the sensor from the exposure to external light.
Pinout of QTR-L-1RC sensor
The sensor has three simple pins: power supply - VDD (supply voltage), ground - GND and the output OUT. For proper operation, it is sufficient to connect the power supply.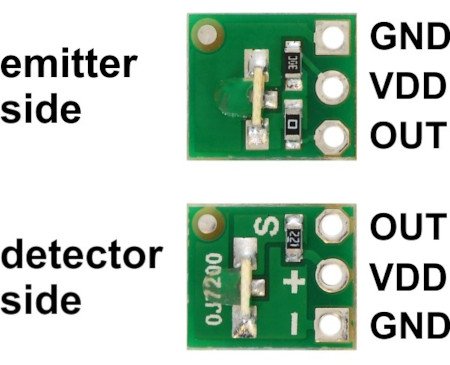 Specification of QTR-l-1RC reflective sensor
The supply voltage: 5 V
The average current consumption: 17 mA
Recommended measuring range: 3 mm - 6 mm
Maximum measuring range: 25 mm
Output: digital signal - the time pulses
Dimensions: 7.6 x 8.9 x 3.1 mm (without connectors)
Weight: 0.2 g (without connectors)