Product description: SS-HDC2010 + CCS811 I2C - temperature, humidity and air purity sensor module
The module is equipped with sensorsHDC2010,whichis responsible for checking ambient air quality and CCS811, which is responsible for measuring temperature and humidity. Combining these sensors into one module significantly facilitates the implementation of the product in projects related to the determination of atmospheric conditions such as a homeweatherstation. The module can supply 3.3 V or 5 V, the I2C interface is usedforcommunication.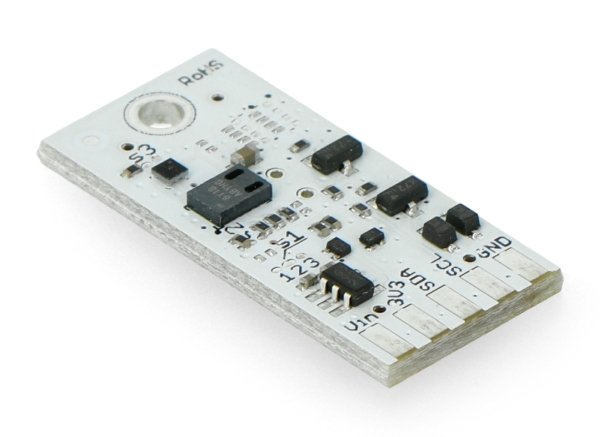 Temperature, humidity and air purity sensor.
Key features of the module
Supply voltage: 3.3 V to 5 V
Temperature measurement range: -40°C

to 125°C

Operating temperature: from -40°C

to 80°C / ±

0

.2°C

Humidity measurement range: from 0% to

100% RH / ± 2%

CO2measurement range:

from 400 ppm to 29206 ppm

TVOC output range: 0 ppb to 32768

ppb

Large soldering joints: 2.54 mm

Compatible withArduino, RaspberryPi andother tiles.
Tile excursions
The module has5 fieldsthat allow you to solder the module outputs yourself. The module communicates with the controller using theI2Cinterface.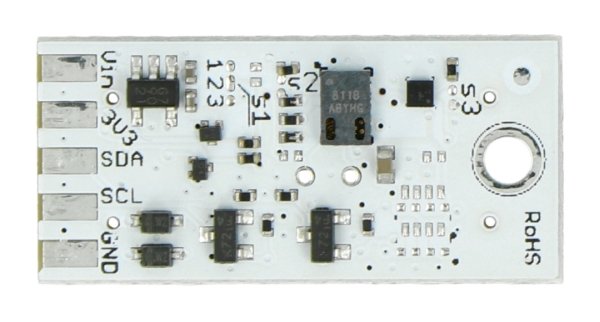 The outputs are located on the board.
| Pin | Description |
| --- | --- |
| VIN | Supply voltage 3.3 V / 5 V. |
| 3V3 | VDD - LDO. |
| SDA | I2C bus data line. |
| SCL | I2C bus clock line. |
| GND | The weight. |
Technical specification
Supply voltage: 3.3 V / 5 V
Interface: I2C
Module dimensions: 13 x 27 mm