Product description: SS-BMP280 I2C - temperature and pressure sensor
Pressuresensormodule with thermometer. Can be supplied with3.3 Vor5 V. These types of sensors are very well suited for the design of weather stations and atmospheric testing equipment. The module has connectors prepared for soldering.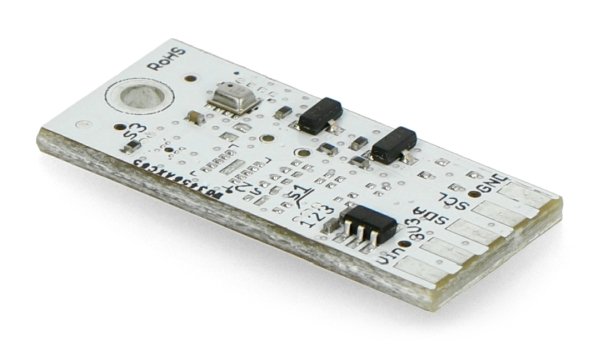 Pressure sensor with thermometer.
Key features of SS-BMP280 sensor
Supply voltage: 3.3 V to 5 V
Pressure range: 300 hPa to 1100 hPa

Temperature range

: -40°C to 85°C
Large soldering joints: 2.54 mm
Compatibility withArduino,Raspberry Piandothertiles
Exits
The board is equipped with 5 fields of lead wires for self-soldering. The sensor uses I2C interface for communication.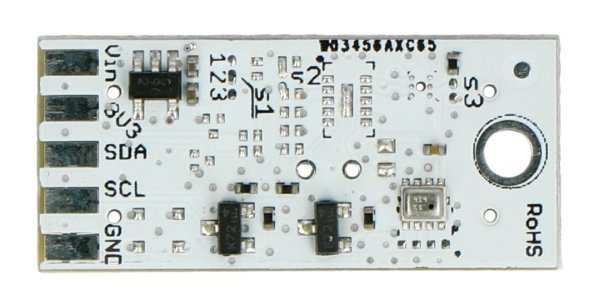 The outputs are located on the board.
| Pin | Description |
| --- | --- |
| VIN | Supply voltage 3.3 V / 5 V. |
| 3V3 | VDD - LDO. |
| SDA | I2C bus data line. |
| SCL | I2C bus clock line. |
| GND | The weight. |
Technical specification
Supply voltage: 3.3 V / 5 V
The temperature:

Measuring range: -40°C to 85°C
Accuracy: ± 1°C

The pressure:

Measuring range: 300 hPa to 1100 hPa
Accuracy: ± 0,12 hPa

Module dimensions: 13 x 27 mm