Product description: DFRobot Gravity liquid turbidity sensor analogue
A sensor that tests water quality by determining the level of turbidity. It detects particles suspended in water by measuring light transmittance and propagation rate, which changes as the total suspended solids (TSS) increases. The greater the TSS, the greater the turbidity level.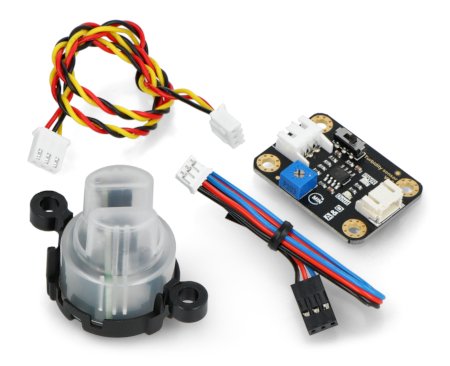 Turbidity sensors are used, for example, to measure water quality in rivers, streams, to measure wastewater and in laboratory instruments.
Product compatible with Arduino
Example code and detailed information can be found in the user guide.

DFRobot GravitySpecifications
Supply voltage: 5 V DC
Operating current: up to 40 mA
Response time: less than 500 ms
Isolation resistance: 100 M
Two output signal modes:

Analog: voltage from 0 V to 4.5 V
Digital: low and high state - switching level can be adjusted using built-in potentiometer

Operating temperature: from -30°C to 80°C
Weight: 30 g
Probe dimensions: 28 x 34 mm
Module dimensions: 28 x 38 mm