Description of product: SparkFun VCNL4040
Module based on a digital sensor VCNL4040that combines the ability tomeasure proximity IRand measure the intensity ofambientlight. The module allows to detect obstacles in the range of0 to 20 cm.Communicates via the busI2C (QWIIC connector), it is supplied with the voltage3.3 V.
Sensors of this type are used in automatic paper towel and soap dispensers or cranes. Thanks to the connectorsystem Qwiic, it doesnotisrequires soldering, which greatly facilitates the work with the sensor.It is sufficient to use onecable QWIIC.
LED of the proximity sensor

SparkFun VCNL4040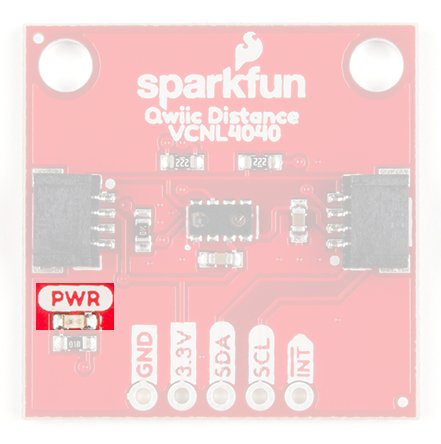 LED indicates the power status of the module, helps to ensure that the device is working. The board can be recharged usinga polarizedconnector Qwiicor contacts PWR and GND.
Attention!
The module uses voltage of 3.3 V, attempting to use a power supply with higher voltage may damage the sensor.
Sensor VCNL4040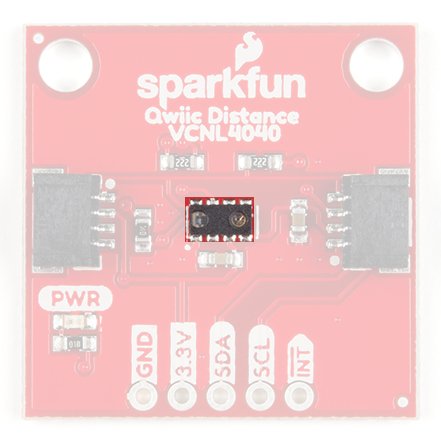 VCNL4040 is both proximitysensor, light sensor and an IR transmitter of high power united intoa single module. Light and proximitysensors operate simultaneously. Connecting two sensors with IR emitter creates a proximity detector.
Connection to the module SparkFun VCNL4040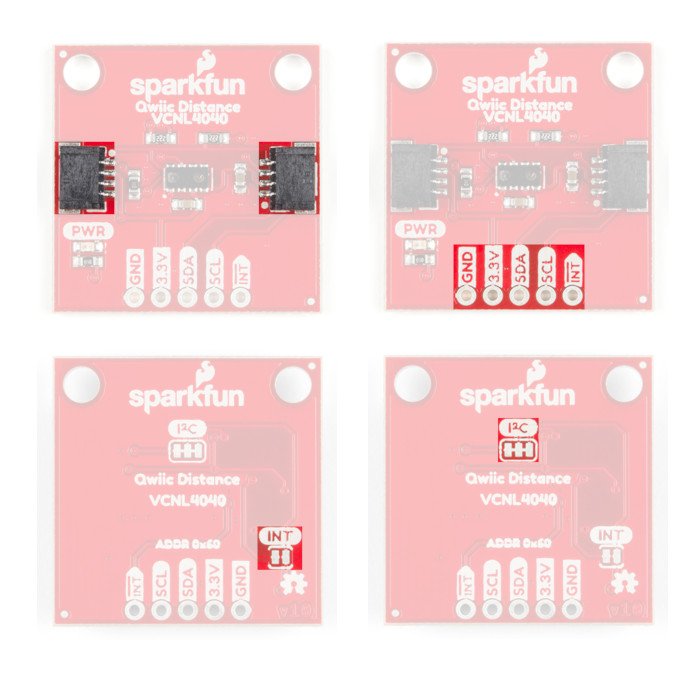 The easiest methodof connection is the use of

Qwiic 

connection 

system

. The connectors are polarized to connect I2C and power supply.
On the board there are 5 pins that can be connect to the bus I2C of the microcontroller and to the power contacts (3.3 V and GND).
Cutting off the INT jumper will remove the 10 kω resistor with a contact INT.
Cutting off the I2C jumper will remove 2.2 kOhm resistors from the I2C bus.
Technical system specification of SparkFun VCNL4040
Option
Range
Detection range
From 0 cm to 20 cm
Built-in
 IR transmitter (IRED), ambient light sensor (ALS), proximity sensor (PS)
Services ALS and PS
Yes, in a parallel structure.
Dead zones
No
Working voltage:

3.3 V

I2C address
0x60
Connectors Qwiic
2x