Product description: 2x16 I2C LCD display with backlight (White on Blue)
Monochrome 2 x 16 character LCD display withhigh brightness backlight from Grove. The module communicates with the control board via the two-row I2C bus. The screen is poweredfrom 3.3 V to 5 V.
Traditional LCD displays requireup to 10 free I/O pins onthe control board and screens with RGB backlighting require three additional pins to control the backlighting colour. This is a limitation for those who use a programming board with fewer pins such as Arduino, Raspberry Pi.With the Grove connector, only two signal pins and 2 power pins are required, just connect the module to the I2C interface inSeeeduino, RaspberryPi orArduinousingthe Grov cable.
Features and applications of the Grove module with monochrome display
Display of 2 lines of 16 characters each
Display mode STN (yellow green)
Built-in MCU
I2C interface
Support for English and Japanese fonts
It is used in displays for thermometers, clocks and other projects requiring simple display.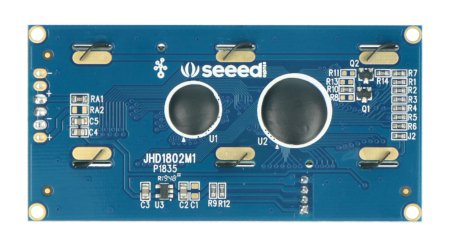 Monochrome 2X16 I2C LCD display with backlighting.
User guide available under thislink.
Technical specifications of Grove module with display
Parameter
Scope
Operating voltage
3.3 V to 5 V
Working temperature
From 0℃ to 50℃
Storage temperature
From -10℃

to 60℃

Interface
I2C
I2C address
0X3E
Dimensions
40 mm x 80 mm x 13 mm
Mass
42.9 g