Description: Wireless WiFi monitoring kit - DVR + 2x camera - Zamel ZMB-01.
The set allows to create wireless monitoring based on WiFi network- Zamel ZMB-01. The set includes DVR supportingup to 9cameras and 2 2 MPxFull HDcameraswithIR diodes. For proper operation it requires only power and hard drive connection, as well as network connection. The cameras have IP66 class.
The DVR has clear menu in Polish language allowing to configure the device with theincluded mouse.Apart from continuous recording it is possible to set recordingscheduleor start the cameraafter detection of movement. Thanks to IR diodes used, the cameras can recordup to 25m after dark. Access to the view from the cameras and the recorded material on the hard drive is done throughthe application forAndroid oriOSdevices.
Main features of the set for WiFi monitoring
Supports up to 9 WiFi cameras simultaneously (2 cameras included).
Continuous recording or possibility of setting schedule and recording after motion detection.
Built-in IR diodes that illuminate at night with light range up to 25 m.
No need for cabling.
Video compression system: H.265/H.265+, H.264/H.264+.
HDMI and D-Sub video output for screen connection.
Remote access via Android / iOS application.
Cameras in metal housings with IP66 protection class.
Space for SATA disks.
Specifications of Zamel wireless monitoring kit
Registrar
Power supply
12 V DC
Power consumption
4,1 W
Frequency of operation
2.4 GHz
Maximum number of cameras
9
Compression method
H.265/H.265+, H.264/H.264+
Resolution of the recording
1920 x 1080 px
Reach
Up to 300 m in an open area
Video outputs
1x HDMI, 1x VGA
Network socket
1x RJ45 (10 Mb / 100 Mb)
Hard drive socket
SATA
USB socket
Backup, mouse connection
Remote access
Android / iOS application or website
Dimensions
230 x 215 x 180 mm (with antennas)
Mass
479 g
Camera
Power supply
12 V DC
Power consumption
1,7 W
Type of matrix

2 MPx (1080p)

1/2.9" CMOS
HISILICON Hi3516C sensor

Infrared
20 IR LEDs with a range up to 25 m
Degree of protection
IP66
Dimensions
160 x 160 x 73 mm (with antenna)
Mass
284 g
The set includes
1x recorder
2x WiFi camera
1x recorder power supply 12 V / 2 A
2x 12 V / 0.5 A camera power supply
Mounting pins
Cable ducts
Mouse
RJ45 cable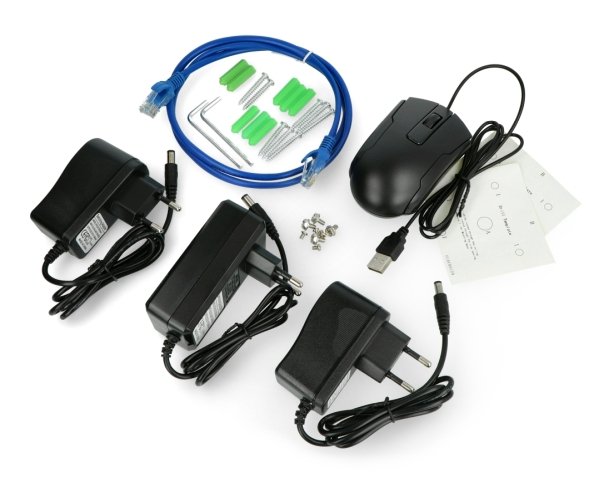 Accessories included.